Bank of England takes a break from opining on banks' IT outages to 'fess up to forking needless cash on legacy kit, manual processes
Might want to stop throwing stones for a while...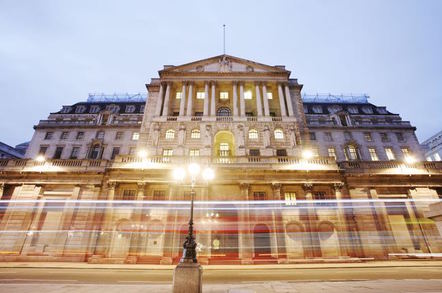 The Bank of England (BoE) has admitted to MPs there is "significant" room for improvement in its IT systems, which cost about a third more than other central government organisations.
The body came down hard on other financial institutions' poor IT practices following a spate of serious outages hit the UK in 2018, launching a formal probe into resilience and risk in June.
However, it seems the Bank of England needs to get its own house in order: a Public Accounts Committee inquiry has concluded the rate of modernisation at the bank lags behind both private and public sectors.
In a report published today, the MPs called on the BoE to ensure the way it is working, systems and culture are brought up to date, which it said should include a revamp of its IT systems.
"Many of the Bank's processes are overly complicated, inefficient and very costly to administer," the committee said.
The MPs also noted the Bank plays a fundamental role in the country's financial stability, and it should "just demonstrate that it practices what it preaches".
Technology operations at the BoE cost £101.4m in 2017-18 – of a total budget of £647m – and the committee found that in 2016-17, it had spent 33.6 per cent more on ICT than other central government organisations.
The Bank argued that, with £600bn a day going through its systems, it needed higher levels of service availability – which it achieved, with services down just 0.01 per cent of the time, compared with 0.37 per cent in central government.
However, the BoE conceded there was "room for significant efficiency improvements" and cost savings in areas of IT, admitting the expense was partly due to "high levels of manual processors and legacy IT systems".
In addition, it pointed to problems incorporating the Prudential Regulation Authority's systems when it absorbed the body in 2014; this led to duplicated applications and the need to integrate large datasets.
"The Bank told us that the integration of these systems took a substantial amount of time to deal with, and that its data centre migration programme had been cleansing many of those systems and applications, which took additional time," the report said.
The committee acknowledged that the Bank was embarking on a transformation programme that aims to save £15m a year from 2021-22.
"However, we are not yet convinced that the Bank's new vision for central services is sufficiently clear, nor that it has fully considered the changes it could make to modernise practices and maximise efficiency savings."
The MPs also slammed the fact the Bank had failed to discipline any of the 200 instances where staffers violated policies on purchases above £25,000 between December 2016 and December 2017.
"The Bank accepts that its procurement policy and function were not fit for purpose. Nonetheless, this does not justify staff flouting the policy, nor the Bank taking no retrospective action against individuals."
Elsewhere, the committee said the Bank had too many job titles – it has more than 700, which creates complexity and inefficiency – and that assessing many of its working practices "appeared to offer a glimpse into the past".
The MPs told the Bank to write to it later this year setting out staffing structure and changes, put in place a more systematic approach to benchmarking itself against other organisations and ensure it is 100 per cent compliant with its own policies. ®
Sponsored: What next after Netezza?