What's in a name? Quite a bit when it's the most hated abbreviation of 2018 (GDPR, of course)
Marketing biz decides 'GD PR' was getting it noticed in all the wrong ways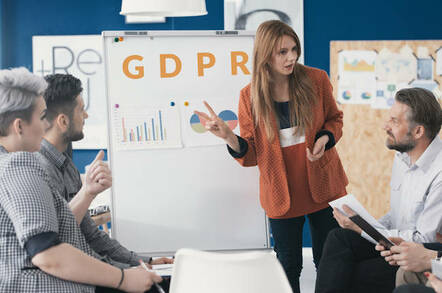 Almost a year after the General Data Protection Regulation came into effect, the European Union's stricter privacy law has claimed another victim.
But this time it isn't a US-owned website locking out EU users, a tech titan facing multimillion-euro fines or a major site running a stripped back version. Neither is it a dodgy data broker or a LinkedIn snake-oil salesman who smelt fresh meat elsewhere.
Nope. This time the regulation has sucked up the time and energy of an unfortunately named Worcester-based marketing biz, GD PR & Media.
The firm – which does public relations, digital marketing and graphic design work – apparently got sick of being confused with the big bad regulation.
Worcester News reported that the firm increasingly found they were getting phone calls asking for advice on GDPR, assuming they were specialists on the EU law.
"It got to a point where we were making jokes about hiring a GDPR expert to handle the enquiries and it was then that we realised we needed to rebrand sooner rather than later," said director David Huckerby.
Where some might have seen that as a golden opportunity to latch on to the regulation's coattails and use it to bring in more interest, GD PR & Media decided to switch its name to Conteur.
Meanwhile, El Reg reckons the less said about the orgs that typed four letters into a search engine and clicked on the first link to ask for compliance advice, the better.
Of course, the moral of the story is: just because someone has "GDPR" in their name or title, don't expect them to know the first thing about it. Something especially true for consultants that claim to be "GDPR certificated". ®
Sponsored: Webcast: Why you need managed detection and response