You know the drill: SAP has asked Joe Public to name Munich arena so go forth and be very silly
The combined might of Reg readers can do better than SAPpy McSAPface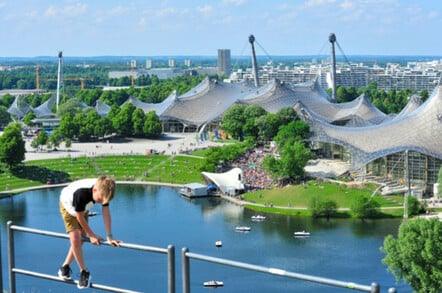 German ERP giant SAP has finally latched on to the name-our-thing stunt commonly used to drum up interest in gritters, offering punters the chance to brand Munich's new sports arena.
SAP has the naming rights to the stadium and has launched a PR campaign asking people to come up with a name in exchange for the chance of winning a personalised seat in the venue.
The move comes just, er, years after the craze of letting the public name important and high-profile items, which hit headlines with the UK's British Antarctic Survey's Boaty McBoatface fiasco.
The idea of handing over naming rights to a group of jokers has since been a source of great social media and press attention for local councils, which regularly use it to engender public support for gritting campaigns.
But SAP's pitch is a little more blockbuster as it will adorn the multi-purpose stadium in Munich's Olympic Park – and it unsurprisingly is taking some precautions, as a jury will select a shortlist before they are put to the public vote.
The firm is far from the first tech vendor to bag the rights to put its name in lights above a stadium. Oracle just signed a 20-year deal for the rights to the San Francisco stadium, formerly known as AT&T Park. But Big Red's marketing team apparently didn't fancy getting involved, so the arena will be given the imaginative moniker "Oracle Park".
SAP is no doubt hoping to get one up on its US competitor – which is increasingly throwing shade at the ERP-cum-CRM firm – and score some "hip" points by opening up the process to the public. It comes hot on the heels of another blatant, and slightly cringeworthy, attempt at social media virality.
A one-page letter penned to "anyone who will listen", supposedly from a disgruntled 36-year-old New Jerseyite, was taken out in the Wall Street Journal last month.
This was conveniently answered a few pages later, by SAP boss Bill McDermott and Qualtrics (SAP's latest acquisition) exec Ryan Smith, who – shockingly – in a missive beginning "Nick. We hear you..." said the firm "couldn't agree more" with the problems raised in the letter it staged.
However, the German firm isn't going to let the public have total control over the name – it still has to have its brand on there, so all entries have to include "SAP".
Sadly, this rules out "Indirect Access Arena", which your vulture thought sounded quite catchy. Indeed, El Reg's efforts to come up with a jazzy name that includes the rather bland non-word "SAP" is, um, SAPping our will to live. ®
Sponsored: Quit your addiction to storage