Sussex rap fan wants statue of Easy-E from NWA in his hometown because he's a 'legend'
Not because he has anything to do with Newhaven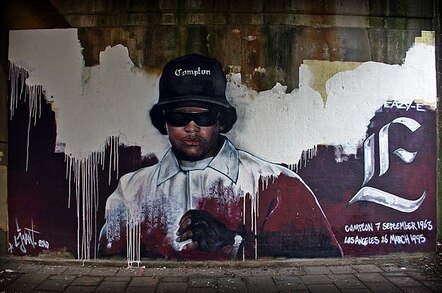 British council halls are about the least hip places on the planet, full of fusty old folks umming and erring over whether the introduction of a Lidl branch will forever shatter the "street scene".
So it's no surprise that one chap's bizarre quest to have "Godfather of Gangsta Rap" Eazy-E – famously from Compton, California – honoured as a statue in the port town of Newhaven, in East Sussex, has mostly fallen on deaf ears.
According to beloved Brighton-based rag The Argus, Guy Stevens has been petitioning the town council to immortalise his hip-hop hero.
Why? we hear you ask. "Eazy-E is a legend."
Fair enough.
"Just do it," Stevens pleaded with the authority. "Get a statue or a plaque up. Why not?
"You just wasted money on a bandstand on Denton island* no one cares about so why not an Eazy-E memorial?"
You can't fault his logic.
The council was said to have "no idea who Eazy-E is" but hasn't yet formally responded to the request.
Stevens told the newspaper: "I think it would be unique, it would stand out, and would be eccentric.
"It would add to the town and bring some interest.
"Nineties gangsta rap is basically the greatest music ever anyway.
"Also he died of AIDS so on a more personal level it may raise awareness of things like sexual health.
"He needs to be remembered in some way in our town. We have nothing going for us and no notable landmarks other than a fort."
Though Stevens was adamant that an online poll created to assist his campaign showed 60/40 in favour of the Easy-E memorial, opinions from the community paint a different picture.
Newhaven's deputy mayor said: "I've lived all of my life in Newhaven and I've never heard of him, not a clue.
"I'm 72 years old and more of a Beatles fan than anything.
"If I had my way I would have statues to them around the town."
Stevens, however, retorted that the Beatles "suck".
A resident responding to the campaign online wrote: "He might be a legend but no one I know has heard of him.
"He did nothing for Newhaven so why would I want to contribute to a statue?"
The Register also approached local man (and Reg hack) Richard Speed about the campaign to be sprayed with mumbles along the lines of "Who?" followed by "is he on Radio 4?" before he admitted: "I don't know much about hip-hop. Can I have a beer now, please?" ®
* Home to the local bowls club...
Sponsored: Quit your addiction to storage