WeWork restructuring bites El Reg hacks where it hurts as afternoon brew delayed
Mug hoarder identified at Vulture Central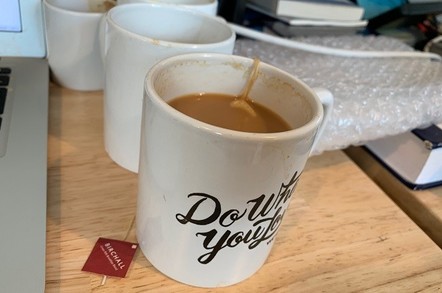 Shortages at hipster hangout WeWork have left its occupants without their afternoon brews after an "ongoing UK/Ireland-wide mug deficit" was announced.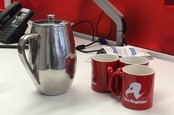 Milk IN the teapot: Innovation or abomination?
READ MORE
The workspace outfit, which has proliferated all over the show since it kicked off in 2010, specialises in providing desks for those that would rather not sign up for a lease in a soulless grey box, but would prefer something glazed, artfully lit and adorned with pot plants, brick walls, and coffee table books unlikely to be read by anyone.
London's Vulture Central currently occupies one such space, a glass box dubbed, somewhat cruelly, "The Lizard Tank".
WeWork provides all manner of niceties to distract workers from the horror of 9-to-5, including an in-house barista, an exciting selection of beverages (including, for Londoners at least, beer) and a calendar of events aimed at fostering a sense of community among the mostly Mac-wielding workers within.
However, like the groups of students on which the community seems to be based, nobody wants to do the washing up – and crockery is going missing, leading to officials to declare an "ongoing UK/Ireland-wide mug deficit".
We are currently experiencing an ongoing UK/Ireland-wide mug deficit utill [sic] mid of February so as a friendly reminder, please reuse your mugs or bring them back to the community areas for cleaning if not needed
We can confirm that those seeking a delicious beverage (who don't have famous Reg mugs) have had to resort to raiding the barista for a disposable paper cup, undermining the achingly "woke" credentials of the outfit.
Eco-friendly WeWork prides itself on making pretty much every bit of tableware recyclable or reusable. Sadly, this also makes the "Friday Treat" occasionally a little disappointing – staff have been banned from serving up anything non-vegetarian. Thankfully, the vegan train has yet to roll into town, but we fear it is only a matter of time.
We asked the company for its thoughts on the ongoing shortage, but the workspace wranglers preferred not to comment.
With WeWork not enjoying the level of investment it was expecting from the likes of Softbank, according to the FT, The We Company has been putting a brave face on things, warning that it's on a mission to "elevate the world's consciousness".
But not, it would seem, the world's coffee cups. We can only hope the UK and Ireland reference is not a hint of things to come in a post-Brexit WeWork world. ®
Sponsored: How to Process, Wrangle, Analyze and Visualize your Data with Three Complementary Tools