Amazon robot fingered for bear spray leak that hospitalised 24 staffers
Jeff Bezos' brown box empire slammed for failing to protect employees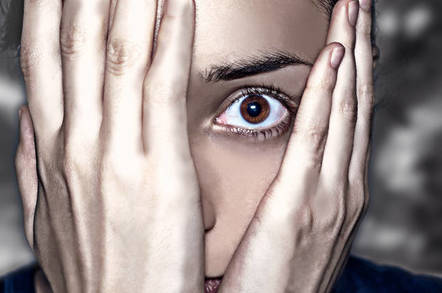 Amazon has once again been slammed for conditions workers face in its warehouses after a robot in a US site popped a can of bear repellant, hospitalising 24 staff.
The incident, which took place yesterday at the Robbinsville fulfillment centre in New Jersey, involved an automated machine that "accidentally" punctured a 9-ounce can of what is effectively concentrated pepper spray.
According to media reports, the bear repellant is concentrated Capsaican, which is an irritant to mammals – as one would imagine for something meant to keep bears at bay.
The can is said to have been punctured by one of the automated machines Amazon uses in its massive warehouses – this one is about 1.3 million square feet – after it fell on to the floor.
The emergency services attended the incident, and ABC News reported that 24 staff were sent to hospital, with one in a critical condition, while a further 30 were treated at the scene.
Robbinsville Fire Dept on scene at Amazon Warehouse on New Canton Way investigating "fumes" that have several employees complaining of illness. Fire Dept is attempting to isolate the source. EMTs are triaging multiple patients. 7 ambulances and a medic currently assigned

— Robbinsville Fire (@IAFFLocal3786) December 5, 2018
Multi-billionaire Jeff Bezos' online marketplace giant has come under repeated fire for the poor working conditions in its warehouses. In the UK there have been numerous health and safety complaints in this year alone, including sub-zero temperatures, no time to visit the bathroom and electric shocks.
In 2016, there were even reports that staff took to sleeping in tents in order to save money and be able to make it into work on time.
Claiming the firm "listened to [its] critics", Bezos recently announced Amazon is raising the danger money minimum wage for US workers to $15 an hour, to £10.50 in London and £9.50 in the rest of the UK.
However, opponents remained unimpressed at failures to tackle the wider problems in the warehouses, and ABC News reported that – despite Amazon workers not being unionised – the Retail, Wholesale and Department Store Union had issued a statement about the Robbinsville incident.
"Amazon's automated robots put humans in life-threatening danger today, the effects of which could be catastrophic and the long-term effects for 80 plus workers are unknown," president Stuart Appelbaum said.
"The richest company in the world cannot continue to be let off the hook for putting hard working people's lives at risk."
An Amazon spokeswoman told The Register that employee safety was the firm's top priority, and claimed "all of the impacted employees have been or are expected to be released from hospital within the next 24 hours". ®
Sponsored: Detecting cyber attacks as a small to medium business