If you ever felt like you needed to carry 4TB of data around, Toshiba's got you covered
External Canvio drive leads the way in capacity upgrade
Toshiba has pulled the covers off a 4TB portable 2.5-inch disk drive using 1TB/platter technology.
The previous Canvio capacity high point was 3TB. Options with the new model are 500GB, 1, 2, 3 and 4TB.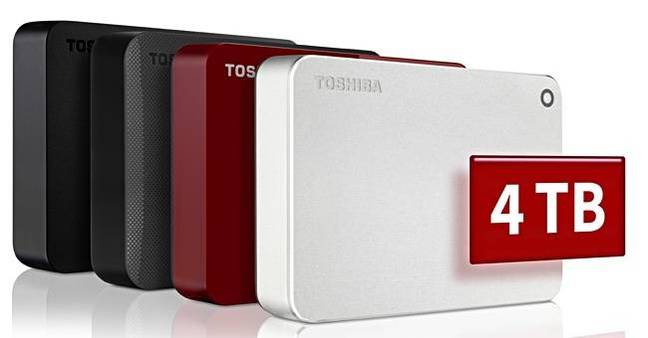 4TB Canvio model range
What's inside could be an upgraded MQ03ABB300, a 3TB 2.5-inch drive with four platters. That drive spins at 5,400rpm and came with a 6Gbit/s SATA interface.
It's fairly old now - January 2015 - so an upgrade to 1TB platters and a 4TB capacity is feasible. In fact, we wouldn't be surprised to see an MQ03 4TB upgrade fairly soon.
There are four versions of the 4TB Canvio:
PREMIUM – aluminium-finish design with diamond-cut edges and options of silver or dark grey metallic
ADVANCE – glossy black, white, red or blue
BASICS – matte black
READY – black dotted unit
The PREMIUM and ADVANCE models have free downloadable Toshiba Storage Backup Software and Storage Security Software for password protection and automated backup. Only the BASICS and READY models offer the 500GB capacity point.
USB Type-C compatibility, via a Type-A to Type-C adapter, comes with the Canvio PREMIUM only.
All models have a three-year guarantee, support Windows and Mac, and are compatible with both USB 3.0 and USB 2.0. General 4TB model availability starts in January 2019, missing the Christmas buying season, but possibly timed for CES 2019. No prices were revealed. ®
Sponsored: Webcast: Build the next generation of your business in the public cloud