Here's the list of space orgs big and small sparring to send next NASA gear to the Moon
Boffins promise to return 'nauts to the lunar surface, too. No, really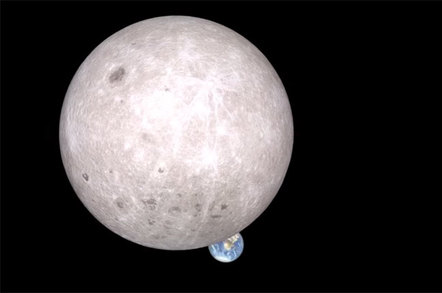 NASA adminstrator Jim Bridenstine on Friday announced the companies the US space agency plans to pay to send its next science experiments to the Moon.
The selection is part of NASA's Commercial Lunar Payload Services (CLPS) programme, which aims to set the boffins' gear down on the lunar surface using landers. The good news for the companies concerned is that they are now eligible to bid for "indefinite delivery, indefinite quantity" contracts with a combined maximum value of $2.6bn during the next 10 years.
The bad news? There is no guarantee NASA will actually award any contracts at all. The agency said it will consider a number of factors when comparing bids, such as price, schedule, and most importantly, technical feasibility. With some of the companies in NASA's list still bruised from trying – and failing – to win Google's Lunar X Prize, that last point will weigh heavily in NASA's thinking. The space community has a long history of enthusing over PowerPoint spacecraft.
The nine companies selected (below) range from minnows to juggernauts:
Astrobotic Technology, Inc. (Pittsburgh)
Deep Space Systems (Littleton, Colorado)
Draper (Cambridge, Massachusetts)
Firefly Aerospace, Inc. (Cedar Park, Texas)
Intuitive Machines, LLC (Houston)
Lockheed Martin Space (Littleton, Colorado)
Masten Space Systems, Inc (Mojave, California)
Moon Express (Cape Canaveral, Florida)
Orbit Beyond (Edison, New Jersey)
NASA reckons that payloads could be flying as soon as 2019, and expects proposals for instruments and technology bound for the lunar surface to be drawn up by January.
Interestingly, the agency also said the missions would aid the development of technology to, at some point, return humans to the lunar surface and on to Mars, but we've heard that big promise before. Bridenstine, though, insisted this time things would be different: there was President Trump's Space Policy Directive One for one, and the involvement of both commercial and international partners, all of which equaled momentum for getting humans to the Moon and Mars. So not the same at all as when President Bush trotted out similar promises of Martian jollies 15 years previously.
Sadly, with NASA's schedules stretching out beyond the most optimistic projections for the length of the Trump presidency, a future administration may have other priorities, and the Moon and Mars could be pulled off the todo list, for human visitors at least.
Commercial Moon = good. Commercial Crew = a bit scary
While Bridenstine was gun-ho about utilizing commercial outfits to get NASA's science equipment to the Moon in the near future, he was less confident about his private partners getting human astronauts to the International Space Station (ISS) any time soon.
NASA had previously penciled in a launch by SpaceX to demonstrate a crew-carrying version of its Dragon spacecraft on an uncrewed jaunt to the ISS for January 7. It had got as far as sending out paperwork for the media before Bridenstine apparently slammed on the brakes, according to a report in USA Today.
Citing worries over components such as parachutes, the first flight has been pushed back to an unspecified date later in the spring, casting doubt on whether a crewed flight could occur this year from US soil. Things were tight even with a January launch.
While NASA's commercial partners remain firmly on the ground, with their workplaces under review by a nervous agency, Russia has no such worries. The next crewed mission of the venerable Soyuz to the space station is due to make its way to the launchpad tomorrow for a launch on December 3. ®
Sponsored: Detecting cyber attacks as a small to medium business