Azure MFA falls over, Windows 10 struggles with Intel drivers, and Microsoft gives us... more Sticky Notes?
Stick, stick, stick, stick, sticky, sticky, round-up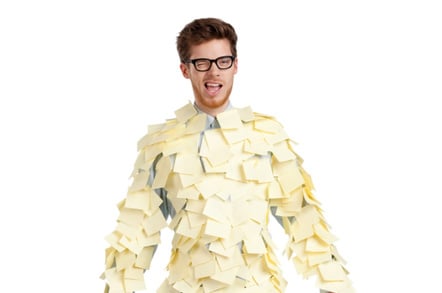 Well done, Squirrels, you've won the wobbly software badge. Now, what else did you get up to last week?
It's oh so Sticky
The tanks of Microsoft's Sticky Notes app appear to be sidling up to the lawns of OneNote with Redmond's Jen Gentleman teasing Windows Insiders with the prospect of images in the Post-It emulator.
What say you? 😁 #WindowsInsiders pic.twitter.com/FeUdYINvAi

— Jen Gentleman 🌺 (@JenMsft) November 20, 2018
Sticky Notes, which synchronises over devices connected to a given Microsoft account, allows users to festoon their screens with reminders, replete with font effects and multiple colours. It now appears that images are next. Windows Insiders will get first dibs on the new functionality before the update becomes widely available.
Casual users of OneNote may find Sticky Notes a simpler experience, although Gentleman is quick to point out that OneNote is a better fit for projects while Sticky Notes is just something to use instead of, er, an actual physical sticky note.
One can but hope the product is in use throughout the bowels of Redmond, urging devs to stop writing buggy code and management to hire more testers plastered over every Windows 10 desktop.
The Windows Server of next year takes a discreet bow
Thanksgiving may have curtailed a fresh release of next year's Windows 10 (aka 19H1), but Microsoft still managed to make available the first public version of the next Windows Server.
The release, which will be on the Semi-Annual channel (rather than the Long Term Servicing Channel of Windows Server 2019), is due to ship in spring, although Microsoft is tight-lipped as to what will actually be in it. The release notes are certainly on the light to non-existent side.
We took build 18282 of Windows Server for a quick spin (the Standard rather than Datacenter edition) and did not notice any spectacular changes. A poke around the guts of the thing with PowerShell confirmed the OS and version, but there was little to indicate significant updates.
At this point in the development cycle this is not unusual and, to be frank, the Windows OS family could use a release that did nothing other than fix bugs and improvement performance.
Microsoft Launcher – now with extra Sticky Notes
On the eve of Thanksgiving, Microsoft gave thanks for Android smartphone owners willing to trade whatever monstrosity their device had shipped with for Redmond's own take on an app launcher, Microsoft Launcher.
Originally emitted back in 2015, the user interface has been steadily tweaked by Microsoft engineers, although sadly not to the point where one could recreate the old Windows Phone experience with it. You've got the likes of Launcher 10 for that.
Microsoft Launcher is aimed at those with a Microsoft account and the orifice gives the company a much-needed toehold in the mobile world. It is relatively lightweight and integrates with the rest of the Microsoft ecosystem including, with version 5.1, Sticky Notes. The release also picks up data from Microsoft To Do and includes screen-time and app usage statistics.
The product lead for Microsoft Launcher, Ezra Park, warned that this would be the last release of 2018 before telling the excited faithful that, yes, pictures in Sticky Notes would be a thing soon.
Microsoft slips a Whiteboard into education
Well-heeled educators, rejoice! Microsoft emitted a preview of its Whiteboard for Education app last week for Windows 10 devices, with an iPad version due shortly after.
Redmond has plenty of experience in the realm of collaborative whiteboards, and has designs on the classroom. The vision has an educator running an interactive lesson on a large display, with students making contributions in the form of notes, images or sketches through their own devices on one shared canvas.
Neat, assuming it can be made to work. This Register hack remembers with fondness the days of watching an unfortunate teacher attempting to connect a video recorder to a television. Rolling out collaborative tools in such an environment is a task not to be underestimated.
While Microsoft insists it all works fine with keyboard and mouse, it does list Integrated Touch as a recommendation and, of course, a digital pen will be handy for those fine details.
The electronic whiteboard also features "Ink Beautification" to deal with the user's appalling handwriting. My handwriting is obviously such that beautification is not required (at least as far as the app is concerned), and the shape recognition functionality, while neat, needed things to be a tad too accurate before it would work.
But it is all early days, so much can be forgiven. If a school has already bought into the Office 365 for Education vision, then adding this Whiteboard to the environment is simple enough.
And, of course, you can add Post-It style notes to your creation. Because Microsoft, it seems, just can't get enough of sticking notes on stuff. ®
Sponsored: Detecting cyber attacks as a small to medium business