Trump in Spaaaaaaace: Washington DC battles over who gets to decide the rules of trillion-dollar new industry
Sudden changes to FCC document raise eyebrows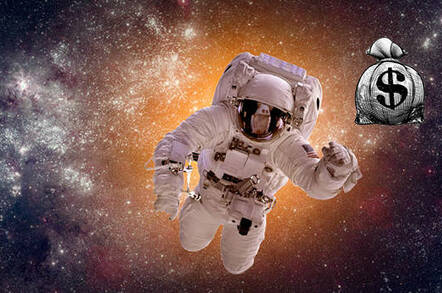 Analysis There's a new battle brewing in Washington DC and for once it's not between Democrats and Republicans, but over who gets to decide the policies for a new trillion-dollar market: The internet in space.
This morning, America's Federal Communications Commission (FCC) approved the release of tens of thousands of mini-satellites that will fly in low-Earth orbit and communicate with one another to provide global telecoms networks.
Due to their low orbits, these new networks can provide faster and more reliable communications on the surface: Think internet access as well as dedicated systems for the next-generation of digital objects.
While that's exciting in terms of the possibilities, to Washington it smells like money and power, and lots of it. The Trump Administration is all over it.
Which may explain why FCC Commissioner Jessica Rosenworcel advised people to look at the wording of the FCC's new order on reviewing space debris rules that was also passed this morning – and compare it to the initial draft published several weeks ago.
"We had a whole host of changes made in the last 24 hours," she told reporters at the federal regulator's monthly meeting. "Suddenly my colleagues were concerned we had no authority to act in this area – that's news to me. I don't believe that Congress has passed a new law."
The rules around new launches – and who gets to set them – is the most obvious control point for a potentially enormous new market. Since 2004 that has unambiguously been the job of the FCC. But the day before it asserts that authority by taking charge of a new policy on space debris, the FCC suddenly makes significant changes in which it questions its own authority.
Rosenworcel smells a rat. "I'm curious who in the Administration reached out to my colleagues to suggest that they need to change the text of this item because it was changed substantially with respect to a broader vision and a broader program," she noted.
Asked why she felt it was someone in the White House that led to change, she responded: "I'm not certain but I do get a sense that there's a renewed interest in space policy… We could be heading to one trillion dollars of economic value so the interest these issues is growing across the board and across the government."
Renewed interest
And she's right: that is exactly what is happening.
In June, President Trump put out a presidential memo called "Space Policy Directive-3, National Space Traffic Management Policy" that highlighted "emerging commercial ventures such as satellite servicing, debris removal, in-space manufacturing, and tourism, as well as new technologies enabling small satellites and very large constellations of satellites" and said in response that there needed to be "a new approach to space traffic management (STM)."
That is something that has been done by a combination of NASA – for obvious reasons – the Department of Defense (DoD) which tracks space debris (in large part to make sure it can recognize if a missile is heading toward the US) – and the FCC, which sets the rules for non-military objects in space.
But now there's big money to be made and lots of companies vying to get into space, the Department of Commerce (DoC) has started making noise about it. On the same day as Trump's directive, the DoC put out a release that said the new directive "brings space traffic coordination to Commerce."
"I commend President Trump and the National Space Council for reaching yet another important milestone as we work to ensure US commercial leadership in space," commerce secretary Wilbur Ross was quoted as saying. "I look forward to working closely with DoD and other departments and agencies as we meet the challenge of increased commercial and civil space traffic."
As any Washingtonite will recognize this was effectively a declaration of inter-agency war, the favorite pastime of power hungry bureaucrats.
That wasn't the startpoint of the powergrab however. For that, you have to travel back to June 2017 when Trump put out a presidential executive order on the National Space Council.
The space council had been dead for so long that even the title of the announcement that the executive order noted it was "reviving" it. The council was entirely a creation of President George HW Bush: established three months into his presidency in 1989 and shut down as soon as he left four years later.
Super space force seven
But Trump reconstituted it with vice-president Mike Pence in charge and commerce secretary Ross a key figure in order to "provide a coordinated process for developing and monitoring the implementation of national space policy and strategy."
The first work product of the council was a transparent appeal to Trump voters and Trump's campaign slogan to "make America great again": America would again put a man on the moon. And not only that but look to putting one on Mars too.
From there, while the president has continued to see space as a way of recreating America's greatness. He soon announced the creation of a sixth branch of the military – something he himself termed Space Force – and talked about a "national space strategy" that will "put America's interests first."
The idea of space strongly resonates with Americans - there is right now a movie in theaters called First Man that tracks Neil Armstrong landing on the moon. Trump knows a nationalistic call to arms when he sees one – to the extent that vice-president Mike Pence joked at a recent National Space Council meeting that the president wouldn't stop badgering him about the idea of a Space Force.
But behind the scenes the the Pence/Ross team has been focused on far less aspirational and far more financial goals: advertising its open door policy to commercial entities interested in going to space.
In May this year, the second space policy directive emerged titled "Streamlining Regulations on Commercial Use of Space" – clear code for a corporate-friendly approach.
A month later came directive 3 - National Space Traffic Management Policy – which the Commerce department immediately insisted meant that it was in charge of "traffic coordination."
Sponsored: Detecting cyber attacks as a small to medium business