Dell Corp UK makes 1.46% net profit margin on £1.556bn in sales – 'satisfactory' apparently
Damn, your expectations for fiscal '18 were that low?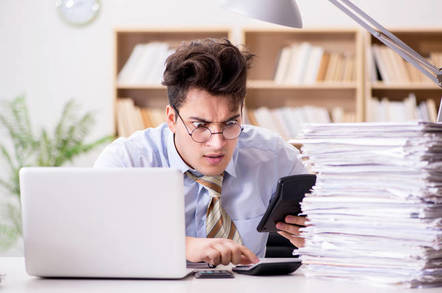 Dell Corporation's UK wing has reported a net profit of £22.77m on a turnover of £1.556bn, according to Profit and Loss accounts (PDF) for fiscal '18 filed with Companies House.
Bizarrely, the business described this net profit margin of 1.46 per cent as "satisfactory". Could it be the result of some creative accounting or are Dell's expectations for financial returns that low? We asked Dell the question.
The sales for the year ended 2 February were broken down as such: £1.266bn was generated by hardware shipments; £271m came from software; £10m from professional services; and £8.5m was "commissionaire income".
Turnover in the prior year was just £192.6m but the reason for this was, rather boringly, related to a revamp in company structure.
"The company entered into a distribution agreement with Dell Products on 4 February 2017 replacing the previous commissionaire agreement with immediate effect, resulting in increased turnover and new revenue streams," Dell stated in the accounts.
Companies are always looking for ways to minimise their tax liability – shareholders demand it – and Dell's restructuring was, in our opinion, done with this in mind. Again, we put this to the company.
The main activity of the UK arm was to market and dish out kit, under the "limited risk distributor agreement" with Dell Products, the accounts added.
Dell, which bought EMC in 2016 for $67bn, said this and other buys mean it is "poised to become the essential infrastructure company both globally and here in the UK, as we continue our mission to advance human progress through effective use of tech".
This will be done, the accounts assured us, by "helping customers transform their businesses through digital modernisation, modernisation of their IT infrastructure environment, providing great workforce solutions".
Headcount for the year was on average 1,369, down from 1,704 in fiscal '17, with 607 in sales, 323 in admin and 439 in ops. The cost of those staff fell to £138.2m from £158.5m.
After discounting the cost of sales, and admin expenses, Dell was left with an operating profit of £22.07m. Interest received and income from financial assets took the profit before tax to £26.97m.
Dell's tax bill was £5.117m but an adjustment in respect of prior years and deferred tax of £806k helped to clip this to £4.195m, which resulted in a profit of £22.77m.
Dell has so far not answered our questions.
Sponsored: Detecting cyber attacks as a small to medium business