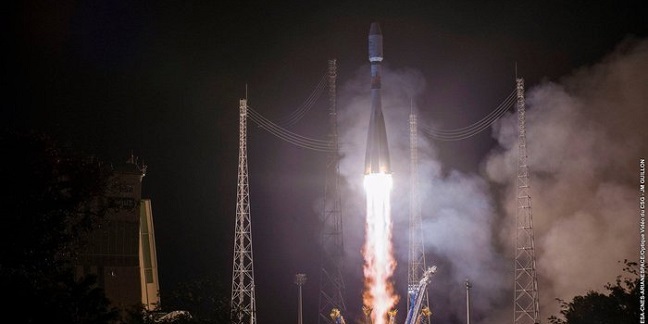 A third Soyuz was successfully launched yesterday, effectively clearing the way for crewed operations to resume, while the results of the US midterms may have unfortunate consequences for NASA.
Three for three for Soyuz
A Soyuz rocket launched ESA's MetOp-C meteorology satellite from French Guiana, lifting off at 00:47 GMT. At 4,083kg the satellite is Europe's second biggest Earth observation spacecraft and carries a variety of instruments from Europe and the US.
The previous MetOp satellites, A and B, went up on Soyuz rockets from Baikonur in 2006 and 2012 respectively. Although launched from a different part of the world, on a slightly different variant of Soyuz, the Russian space agency, Roscosmos, will regard the successful launch as further evidence that October's mishap was a one-off and the venerable booster is safe for crews.
Assuming NASA agrees, of course.
However, according to reports in Kommersant, Roscosmos boss Dmitry Rogozin (who memorably suggested back in 2014 that NASA use a trampoline to send 'nauts to the ISS) has fired off a memo to managers instructing them to put their houses in order.
The Russian space programme has been dogged by quality issues for years. An exploding Soyuz due to errors in assembly and a mystery hole in an orbital module are just the latest examples. According to the report, Rogozin intends to "restore order" and eradicate the "low production culture and disregard for the staff to work".
The memo went on to castigate the poor state of repair of Russian facilities and insisted that funding levels cannot be used as an excuse for the situation.
Russia plans to launch one more Soyuz, a Progress freighter to the ISS, on 16 November. The next launch, in December, should then be crewed if all goes to plan.
Election fallout
NASA has yet another reason to feel nervous as Republican John Culberson lost his House seat to Democrat Lizzie Fletcher. Culberson had chaired the House Appropriations Subcommittee on Commerce, Justice, Science, and Related Agencies for the last few years and was a staunch defender of NASA during his time in office.
As well as crewed spaceflight, such as Orion, Culberson was also instrumental in shoving more money the agency's way for science missions, such as the Europa Clipper.
His departure comes as NASA's hugely delayed big rocket, the Space Launch System (SLS), is coming under yet more scrutiny from the Office of the Inspector General.
OIG announces an audit to assess NASA's efforts to manage the Space Launch System program costs and contracts.

— NASA OIG (@NASAOIG) November 5, 2018
The attention comes at a time when SpaceX are taking strides to get their BFR off the ground. The Big, er, Falcon Rocket is expected to ferry a paying passenger around the Moon by 2023 and Musk claims it will be able to send 150 tons into low Earth orbit. To put that in context, three or four launches would enough to assemble the ISS depending on configuration.
In a tweet yesterday, Musk announced that SpaceX were planning to test out the design of the BFR using the second stage of a Falcon 9.
Mod to SpaceX tech tree build: Falcon 9 second stage will be upgraded to be like a mini-BFR Ship

— Elon Musk (@elonmusk) November 7, 2018
The purpose of the mini-BFR, according to Musk, will be to test the heat shield and high Mach control surfaces of the bigger rocket. Alas, the BFR-ised second stage will not try and replicate the Falcon 9's crowd pleasing touchdown. "I think we have a handle on propulsive landings" said a confident Musk.
No pressure then, SLS. ®
Sponsored: Practical tips for Office 365 tenant-to-tenant migration