Number-three disk drive maker Toshiba isn't shy about shipping 23.4m spinners in 3Q18
Will it increase capacity in a tuned-in MAMR?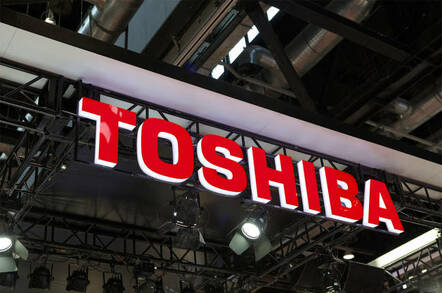 Toshiba, the third-placed disk drive maker behind Seagate and Western Digital, shipped 23.4 million units from its factories in 2018's third quarter.
Seagate has given up detailing its declining disk shipments. But its capacity measure, exabytes shipped, is going up so it's reporting that instead.
Toshiba makes four kinds of disks. Aaron Rakers, a Wells Fargo senior analyst, has provided their numbers for the third quarter of 2018, and compared them with a year ago:
| | | | |
| --- | --- | --- | --- |
|   | Q3 2017 | Q3 2018 | Change |
| Nearline/hi-cap | 1,205,000 | 1,299,000 | +8% |
| 2.5" enterprise | 1,290,000 | 1,595,000 | +24% |
| 2.5" mobile/CE | 16,600,000 | 15,720,000 | -5% |
| 3.5" desktop/CE | 5,605,000 | 4,820,000 | -14% |
The 2.5-inch Consumer/CE and 3.5-inch desktop/CE declines are likely due to flash cannibalisation. We would have expected 2.5-inch enterprise drives to decline in synchrony for the same reason, but they did not.
"Toshiba remains a 5 per cent to 7 per cent capacity share player in high-cap nearline HDDs," said Rakers, who has charted Toshiba's quarterly unit shipments in the enterprise sector, both nearline and 2.5-inch drives: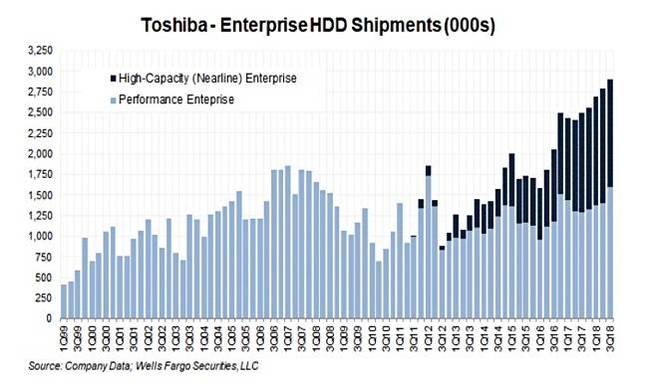 These are Toshiba's growth sectors.
Within the 3.5-inch desktop/CE sector, Rakers reckoned desktop HDDs shipped declined 10 per cent year-on-year to 3.92 million, while 3.5-inch CE drives grew 6 per cent year-on-year to 414,000 units in the quarter. There were also some 487,000 surveillance drives shipped in the quarter, a decline of 42 per cent annually.
Western Digital has MAMR (Microwave-Assisted Magnetic Recording) technology on the way. Seagate has its HAMR (Heat-Assisted Magnetic Recording) technology. So far Toshiba has not revealed what it might do to keep in step with the areal density race.
However, it presented on tuned-in MAMR at a conference in August, with different media layers in a MAMR disk set to respond to differentiations in microwave frequencies. This would increase areal density by having multiple recording layers on a platter. We have to wait and see if this comes to fruition. ®
Sponsored: What next after Netezza?