Got a new Surface? Have some firmware. Old Surface? La la la la la, we can't hear you
New models get first updates as wailing of Pro 4 users continues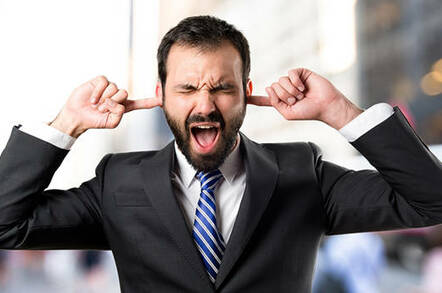 As Microsoft released the first batch of firmware updates for its shiny new Surface Pro 6 and Surface Laptop 2 hardware, owners of Surface Pro 4 fondleslabs afflicted by July's borked update remain in the dark as to when, or even if, their broken firmware will ever be fixed.
In with the new
Those with a Surface Pro 6 brave enough to run the Windows 10 October 2018 Update are due firmware fixes aimed at resolving pen clicking problems. Battery drain due to a borked Intel Display Audio driver is also fixed. The rest (for the Windows 10 April 2018 Update onwards) consists of fixes dealing with unexpected processor speed capping, interruptions to music services and the ever-nebulous "system stability improvements".
Surface Laptop 2 owners are receiving a similar raft of fixes, with the exception of the unexpected CPU capping tweak.
Out with the old (or hope it goes away if we ignore it long enough)
Microsoft can giveth and taketh away with its firmware updates, as owners of some Surface Pro 4 tablets can attest. A July update, the effects of which still seem to be seeping out from beneath Redmond's bathroom door, continues to wreak havoc among owners of the pricey kit.
Earlier this month, a post on Microsoft's forum concerning Surface Pro 4s broken following the firmware update had hit 459 replies. It has now hit the 530 mark, and the issue shows no sign of going away.
We asked Microsoft for comment and were told by a spokesperson: "At this stage we do not have a comment to offer". It took nearly two weeks for this statement to arrive, implying a typing rate of less than a word a day. Probably on a broken Surface Pro 4.
As a reminder, some Surface Pro 4s have reacted very badly to a firmware update that began rolling out in July, with touchscreens that can't be touched, lengthy boot-times and unexpected battery drain. Other than a comment, updated on 4 September, saying the Surface maker was "actively" investigating, Microsoft has left users glumly prodding their very expensive, malfunctioning tablets.
Users have received conflicting messages from Microsoft's support lines, with some being told that the problem was broken hardware and so not its fault. Others have had marginally more success, and been offered repair or replacement with reconditioned kit.
UK Reg reader Philip Curcher showed us some correspondence with a Microsoft Escalation Analyst in which he was told: "Some Pro 4 users have had issues with a recent Windows 10 update. But it has been resolved and the warranty modified to exchange devices that were damaged by this update," following Curcher's warning that a trip to the UK's Small Claims Court would be in order if the company didn't either fix the machine or replace it.
We have contacted Microsoft for more information and will update if anything is forthcoming. ®
Sponsored: Quit your addiction to storage