Our brave El Reg vulture sat through four days of Oracle OpenWorld to write this cracking summary just for you
Blurred lines, blurred sales figures, killing robots in the cloud, and much more
Autonomous database take-up
Oracle was also on the hook to flesh out its autonomous database at this year's event. Although it announced a couple of improvements due in next year's 19c release, including automated database indexing, the enterprise giant was mainly focused on boosting customer awareness and understanding of the flagship product.
Crucially, Oracle needs to sell the difference between its "autonomous" database and competitors that offer some automated functions. And since neither of the two versions have been generally available for long – data warehousing was released in March, and autonomous transaction processing in August – there's not yet a ready supply of big-hitting use cases in all sectors.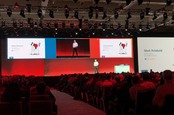 'We broke a few things and will continue to do so... in a careful way' – Oracle's Reinhold on Java renovation work
READ MORE
Of course that hasn't stopped execs from claiming record-breaking levels of interest from customers. "In 30 years at Oracle, I've never seen more interest in a new technology," senior veep Juan Loaiza told The Register. He put this down to a "much simpler and much more compelling" story that could be sold to the C-suite.
"Mostly, when we come out with new functionality, it's very technical," he said. "Mostly, we talk to techies, now the message goes all the way up to the CEO, certainly the CIO, who are looking to make strategic decisions."
As for adoption, Loaiza said there were a lot of free trials underway, with some customers having gone live. This has started with analytics workloads or smaller applications; for mission critical systems, especially in banking or finance, "you have to prove yourself a bit more."
One thing the firm seems to have grappled with fairly well is the idea that an autonomous database will see DBAs lose their jobs – the question came up in most sessions about the database, but both Oracle bods and customers batted it away with ease.
The firm's answer – along with that of some larger customers – is that it will allow DBAs to focus on more stimulating tasks ("freedom from drudgery" is the party line), but in one customer session the difficulty and cost of hiring skilled Oracle DBAs, especially for start-ups, also came up as a reason to plump for the autonomous database.
Applications, scrapping with SAP
However, as financials will attest, Oracle can't rely on databases alone, and kicked off the conference with a keynote dedicated to applications, and raised the idea that it wants to double cloud application revenues.
"Oracle has been in the cloud application business for a fairly long period of time," Ellison said at his Wednesday keynote, before reeling through a list of areas in which it sees itself at the front of the pack. The only place it's trailing, he said, is in front office sales management, where Salesforce is a "clear leader."
Not that the admission pained Larry – instead he used it as a jumping off point for what he sees as the main selling point for Oracle's applications business: its underlying infrastructure business. The others "don't have a foundation on which to build their SaaS applications," he said.
For instance, the firm this week announced Fusion Analytics Data Warehouse – adding analytics to Oracle's cloud business suite Fusion – with Ellison focusing on how easy it is to set up the warehouse, pull in data from various sources and pre-populate it with visualizations, reports, and KPIs.
Because these applications are built on top of a powerful platform, there are no limits in what you can do," he said. Ellison also argued that his was the only firm that offers a complete suite of front and back office applications.
A similar message came across at a press briefing earlier that day, with Karine Picard, vice president of EMEA applications, saying that people are "seeking the limitations of best in breed" options and increasingly want to link front and back office.
A major focus of Oracle's applications push at OpenWorld has been its ERP cloud – a market where it is competing mainly with the German giant SAP. Big Red clearly sees an opportunity to bag customers from its rival, as SAP is driving them on to its in-memory HANA database by ending support for some products in 2025.
"It's not that we are going aggressively after SAP customers, but we see a lot of customers coming to us," Picard said of the new window, which she said tends to be when a customer is thinking of moving to the cloud. "They want to see an alternative, so they open the door to us."
Juergen Lindner, an SAP staffer of 20 years before becoming Oracle's SVP for applications marketing, agreed. He said customers are "balking" at the cost of moving to HANA, as it is a completely new infrastructure and different architecture and using the chance to reassess.
El Reg asked for a ballpark figure on how many SAP customers were coming to Oracle – was it just a handful, or more? In response, Lindner indicated to himself and his three fellow panelists and said, "it's everyone's hands here and then more than that; it's sizable".
Baking in AI
Running under the hard sell on applications was an increased focus on emerging tech. Among the flurry of announcements was the acquisition of DataFox, a cloudy AI biz with that crunches company data – it holds details on more than 2.8m firms – to make business predictions.
There was also the launch of a "business-ready" blockchain applications cloud, which is Oracle's attempt to prove it isn't just offering a 'blockchain' badge for its tech and actually has some idea of how it might be used.
As is common for the distributed ledger technology, there is a focus on supply chain management – tracking goods, governance and record-keeping – but cloud platform EVP Amit Zavery told journalists he expected healthcare and retail to follow.
Zavery acknowledged, when pushed, the criticisms of blockchain – that it is a solution looking for a problem or that creating an immutable record might cause problems in the longer-term. Broadly, though, he offered stock replies about all new tech being over-hyped, while saying blockchain was a nascent technology that Oracle wanted to show the practical uses of.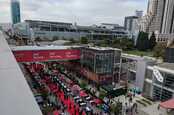 Huge if true: We'll put customers, applications, and AI first, says Oracle at annual SF shindig
READ MORE
A similar emphasis on usability came with announcements on the use of machine learning, with repeated references to the fact that Big Red is not offering AI-on-the-side (IBM's Watson could be an example of kit at the end of Oracle's finger-pointing here) but making it central to its applications.
But, as Adrian points out, the "hard engineering of merging and cloudification is pretty much done" – the next stage is reality. "Mark Hurd was clear that AI and ML are features [not solutions] – now they have to get specific and show what that means."
To some extent, the firm is already attempting to demonstrate it's doing more than attaching a buzzword badge to its kit. Ellison's Wednesday demo was a good example of this, using the new Oracle Digital Assistant to automate and speed up complex, but tedious business processes.
Indeed, his choice of submitting an expenses claims seems a canny one, given it's a universally annoying task that pretty much everyone in the hall will be reminded of when they get back to their desks next week, jet-lagged and possibly relieved the frenetic OpenWorld is over for another year. ®
Sponsored: Detecting cyber attacks as a small to medium business