Australia's national broadband bet shirk: NBN write-down not on the cards – chairman
Switkowski: Write-downs are a financial, not political, decision
Australia's National Broadband Network co-chairman, Ziggy Switkowski, has told a Senate Estimates hearing at the country's parliament in Canberra that he doesn't endorse a write-down of the company.
The network is slated to be sold when the rollout is finished, but earlier this month opposition communication spokesperson Michelle Rowland said nobody would buy it for the AU$50bn-plus that has been spent on the build.
Telstra chairman John Mullen kicked off speculation about an early sale when he said the spin-out InfraCo business would be interested in buying the NBN – at the right price.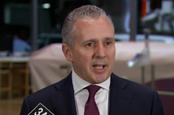 Telstra reveals radical restructure plan
READ MORE
Switkowski has, at least for now, scotched the idea, saying his "personal view" is against a write-down, in evidence to Senate's Environment and Communications Legislation committee on the evening of 24 October.
Write-downs can't just be decreed (by the company or government) he said, because "they are driven by accounting rules".
Without a complete network, NBN won't know what its eventual customer base will be, he added, so "the ability to properly value this asset probably won't be available to us until the 2020s".
"Any consideration on the value of the NBN will await until the business moves into a relatively normal, conventional mode, which will happen when we finish the build in 2020, [and] we compete the conversion of all households and business in 2021."
At some point after that – 2022, according to the company's current corporate plan – the company will be cash-flow positive, and Switkowski said that would be the right time for whoever is in charge to make the decision.
Australia's comms minister, Mitch Fifield, also scotched the idea of an early privatisation of the network, reiterating that any discussion of NBN's price would have to wait for a sale process to start. Only then would circumstances allow for a valuation of the company.
Telstra was rebuffed on another matter, this time by NBN CEO Stephen Rue (who took the reins from Bill Morrow earlier this year). Responding to a Telstra demand for a $20-a-month cut in NBN wholesale prices, Rue told the committee the company is "satisfied that the wholesale pricing is appropriate". ®
Sponsored: What next after Netezza?