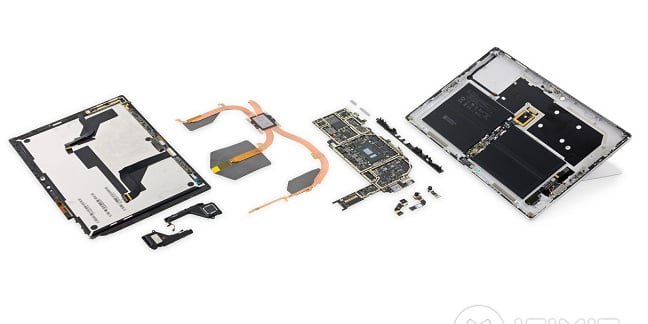 Torx twirlers iFixit celebrated the release of Microsoft's Surface Pro 6 by ripping the thing apart only to find that its still pretty much unrepairable.
The team noted that the new model was initially tricky to distinguish from its predecessor. Both include USB-3 and a Mini DisplayPort but, significantly, lack the USB-C port found on their diminutive sibling, the Go.
Hey-ho, maybe next time, eh?
What has changed is the amount of glue used and iFixit reported the upgraded adhesive putting up quite a fight during extraction of the screen.
At least this time the fragile display survived the procedure.
Interestingly, the LG 2736 x 1824 screen can be dropped directly into a Surface Pro 5 (the team had one lying around from the last disassembly mission).
The passive cooling used in this Core i5-based victim has seen some attention, with an additional cooling pipe and new heat-spreading pads. Otherwise, there is little to get too excited about on the motherboard itself. The CPU is, as promised, an eighth-generation Intel Core i5. Samsung LPDDR3 chips provide the 8GB RAM and SK Hynix supply the non-upgradeable 128GB NVMe SSD. Marvell takes on communication duties, the same as last time around.
The battery is unchanged and puts out 45Wh. The iFixit team observed that this compares favourably with the latest iPad, but opted to leave the battery in place, such was the amount of glue used to hold the power source in place.
The new Surface Pro is just as hard to fix as the old Surface Pro, and iFixit left the dismal 1 out of 10 rating untouched. A ton of adhesive in the innards means that replacement is more likely than repair should things break so go safe when fondling your new Microsoft slab. ®
Sponsored: Practical tips for Office 365 tenant-to-tenant migration