Microsoft CEO Satya Nadella is worth 154 median minions
But that's not as bad as Barbie flinger Mattel or, indeed, Oracle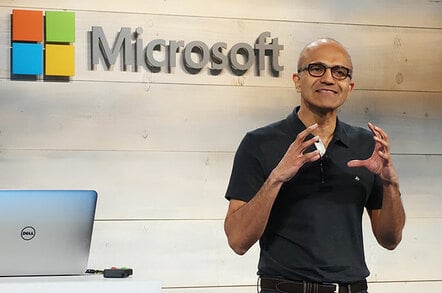 It has been a bumper year for Microsoft CEO Satya Nadella, whose compensation soared to $25.8m in fiscal 2018. Quite a bit more than the median salary of the rest of the company, which hovered at an admittedly none-too-shabby $167,689.
The figures (PDF), which have been submitted to the US Securities and Exchange Commission in the run up to Microsoft's 28 November Annual Shareholders Meeting, show Nadella has enjoyed a stellar growth in compensation from $17.7m in 2016 and $20m in fiscal '17.
The nearest Microsoft executive is CFO Amy Hood, who trousered $14.9m in the 2018 financial year (which ended in June).
Of course, Nadella's sum is mainly thanks to stock awards. His base salary is a paltry $1.5m, which crept up a mere $50,000 from last year's pay packet. The rest comes mainly from $16.8m of stock awards and a chunky $7.4m incentive plan.
Investors are unlikely to be too grumpy about it. Microsoft reported revenue growth of 14 per cent to $110.4bn in its last full year that ended in July, with the bet on the cloud paying off handsomely to the tune of $23.2bn.
Employees, on the other hand, may feel a little aggrieved. If so, they will be relieved to learn that as far tech companies go, Microsoft is pretty tame.
Arch database rival Oracle compensated its CEOs, Safra Catz and Mark Hurd, for $108.3m. Since the median pay of an Oracle employee is, according to Big Red's own filing, $90,000, the ratio is a thumping 1,205:1.
The CEO of troubled IBM, Ginni Rometty, was compensated $18.6m, according the Big Blue's own 14A filing, making her worth 341 median-paid IBM employees – something that will warm the hearts of those in the shadow of IBM's axeman.
Microsoft's cloudy competitor, Amazon, only compensates its CEO and world's richest man Jeff Bezos $1.7m. Of course, the incredibly low competitive median salary paid to its workers of $28.4k offsets this, meaning that Bezos is worth 59 workers, according to the comppany's own filing.
Grumbling tech workers can look to other industries for some truly heart-stopping CEO salaries and employee ratios. Toy maker Mattel reported an 11 per cent drop in net sales to $4.9bn in 2017. The CEO was compensated $31.3m while the median employee (a worker in a Malaysian factory) pocketed just $6.8k, making Mattel's boss worth nearly 5,000 median staffers. ®
Sponsored: Detecting cyber attacks as a small to medium business