Bad weather, baulky booster keep ISS 'naut snacks on the ground
Fresh fruit, fresh batteries stuck on Japanese launchpad as HTV-7 hopes to catch a break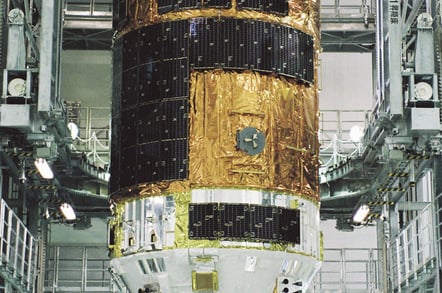 International Space Station astronauts looking forward to feasting on some fresh food have a little longer to wait as Japan's cargo ship has suffered yet another launch delay.
Bad weather originally kept Japan's H-IIB rocket on the launchpad before engineers discovered an issue with the booster, which delayed the launch further.
Lift-off had been scheduled for 1915 UK time on 21 September (or 0315 on 22 September, Japan Standard Time) but nature intervened once again to push things back another day.
Japan's space agency, JAXA, has a "reserved launch period" until 31 October, although that depends on its ISS partners, who will not be happy if they have to shuffle their plans around. Spacewalks planned to fit the batteries due to be brought up on the freighter have already been pushed back due to the delay.
Further slippage could impact the planned departure of Soyuz MS-08 (no, not that one) and the 11 October launch of the next expedition crew.
As well as supplies for the crew, the unpiloted spacecraft, HTV-7 (aka "Kounotori") carries some new experiment racks, an ESA life support system demonstrator and a variety of cubesats. More critically, it is also lofting new lithium ion batteries to replace the nickel hydrogen ones currently used on the ISS. Getting the ageing batteries replaced is critical to continuing ISS operations.
JAXA were quick to trumpet the fact that only its freighter "is capable of delivering six battery [orbital replacement units] at one time". Assuming it can actually leave the planet.
ISS Commander Drew Feustel and ESA's Alexander Gerst had been scheduled to fit some adaptor plates for the new batteries, completing upgrades to two power channels on 30 September.
HTV-7 itself will be carrying 6.2 metric tonnes of cargo to the ISS, consisting of 4.3 tonnes in its pressurised compartment and 1.9 tonnes on its unpressurised logistics carrier. ISS astronauts must use the ISS robotic arm to capture the freighter as it pulls alongside.
Unlike SpaceX's Dragon, the HTV burns up in the atmosphere at the end of its mission (and provides a handy way for astronauts to discard their waste). This time, however, engineers plan to test the HTV Small Re-entry Capsule, which will be released from HTV-7 after it has executed its de-orbit burn and provide another way to recover samples from the ISS. ®
Sponsored: Detecting cyber attacks as a small to medium business