Your deep dive into AWS Lambda, FaaS and more – at our Serverless conference in November
Red alert! Early bird offer finishes in 36 hours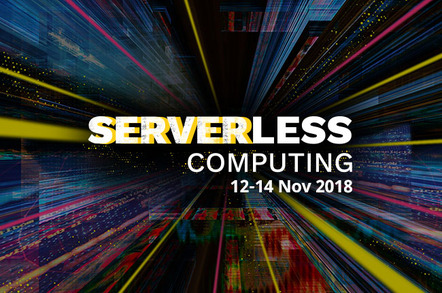 Event If you're not already using AWS Lambda, Azure Functions or FaaS it's highly likely they'll be appearing on your project schedule soon.
So it really makes sense for you to join us at Serverless Computing London in November and it makes even more sense to save £100s on both our conference and workshop tickets before our early bird offer expires at midnight tomorrow.
Our independently developed programme includes keynote speakers Chad Arimura and Charity Majors, and 36 conference sessions from speakers like Snyk's Guy Podjany, Rovio's Marcia Villalba, Dazn's Yan Cui, AWS's Adrian Hornsby, and industry veteran Paul Johnston.
We won't just be covering the fundamental concepts and key platforms such as AWS Lambda and Azure Functions. We'll go beyond to give you essential real world guidance on developing applications for serverless or migrating your legacy software, and go deep into key areas such as testing, security, monitoring and more. The full lineup is here.
And we have a fantastic trio of workshops covering AWS Lambda, IBM Openwhisk and Kubeless.
Serverless is undoubtedly the next step in the evolution of the cloud, and by joining us you'll be giving yourself a headstart, gaining key knowledge that will help you turbo-charge your software development and deployment operations, and, we're sure, your own career prospects.
This all happens within a fabulous venue with great food and drink - including a first night drinks party - meaning you'll be able to connect with both our speakers and your fellow attendees throughout the conference.
So, don't delay. Head to the Serverless Computing London website today, and we'll see you in November. ®