Man cuffed for testing fruit with bum cheek pre-purchase
Brings new meaning to try before you buy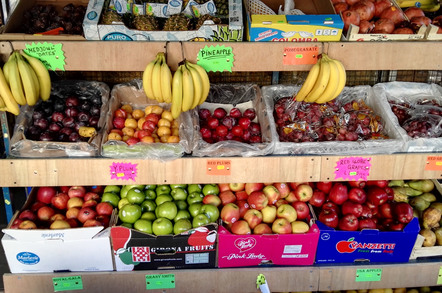 Anyone that's ever had a penchant for using their buttocks to test the ripeness of a peach, plum or squash in a supermarket pre-purchase might have some sympathy for a US chap that was arrested for allegedly doing just that.
The rest of the world will likely understand – if the charges are true – why the cuffs were slapped on 27-year-old Michael Dwayne Johnson, on 15 September after a visit to the Giant Food Store in, um, Manassas, Virginia.
Cops were called to the outlet at around 4.30pm after receiving reports that an in-store security guard had spied unusual methods being employed to, er, assess the freshness of goods on offer.
"A loss prevention employee reported the suspect was seen picking up produce, pulling down his pants, rubbing produce on his buttocks, and replacing the produce back on the shelf," a crime report by Manassas City Police Dept stated.
Subsequently, Johnson was ID'd, arrested and charged with destruction of property and indecent exposure.
As for the produce? The store had to "destroy several pallets" of fruit and veg for obvious reasons. Bummer.
El Reg has heard of bottom-shaped fruit before - peaches spring to mind - but never, ever have we encountered this type of fruit and Manassas tie up. ®