Dive into the ecosystem of the future at Arm TechCon 2018 – and save cash with El Reg
Catch up with new developments – plus get a reader discount on your ticket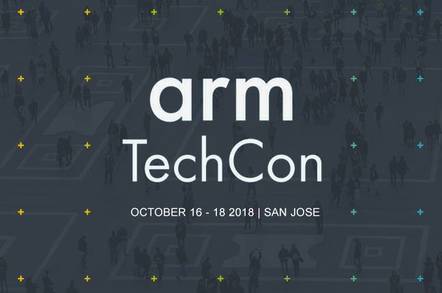 Promo Back for its 14th consecutive year, Arm TechCon is the essential event showcasing all the latest advances in the Arm architecture that underpins everything from silicon design to software development and internet of things (IoT) solutions.
Taking place from 16-18 October in San Jose, California, USA, the conference provides more than 60 hours of learning across the three days. On the expo floor, more than 100 leading Arm partners will display their cutting-edge tech.
Readers of The Register can get $300 off the ticket price, whilst stocks last, by using this discount code: 18ARMTHEREG.
In addition, you can attend free keynotes, get a first look at demos, follow tours, listen to panel discussions, and then unwind while advancing your career at networking drinks receptions.
Curated by Arm's technical program committee, this year's conference agenda delivers expert-led sessions aimed at both novices and seasoned pros.
Choose your main areas of interest among the following tracks:
Automotive and industrial Discover some of today's most interesting engineering challenges, from real-time signal processing to machinery control, embedded vision and robotics.
Connected devices and cloud services From infrastructure to IoT, big data is everywhere. Whether it's analytics from connected streetlights or high-performance compute for medical applications, learn how to design systems that distribute data efficiently and securely.
Edge computing and machine learning Arm partners are enabling intelligence at the edge in industries ranging from mobile devices to automobiles, shipping and home surveillance. Explore the use of sensors, voice and image recognition, IoT gateways and neural network frameworks.
Embedded software development Learn the latest techniques and technologies in debug, multicore software, Linux/Android operating systems, compilation tools, languages, methodologies, optimisation, performance tuning and exception handling.
High-efficiency systems Energy efficiency concerns today touch everything from smartphones to the cloud and data centres. Talks will examines power-efficient software and hardware design, sub-volt silicon design, battery life maximisation and energy harvesting.
System design methodology Demands for secure and reliable low-power systems are increasing. Learn how advances in modelling and tools are boosting hardware and software co-design.
Trust and security Connections at all levels bring significant security considerations. Discover the latest security trends in areas such as provisioning, authentication, encryption, trusted hardware and software, mobile payment, BYOD and virtualisation.
More information and registration here.