Guess who just bought Maplin? Dragons' Den celebrity biz guy Peter Jones
Buys IP inc website and trademark of gadget souk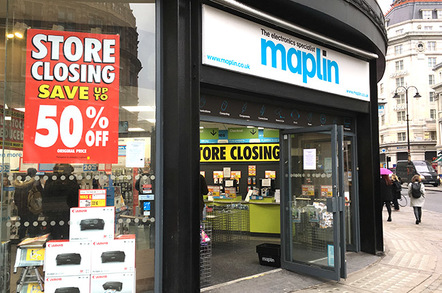 Exclusive Irascible Dragons' Den celebrity tycoon Peter Jones has scooped up the Maplin Electronics trading name, The Reg can reveal.
An auction of the fallen retailer's intellectual property took place in the summer with PWC asking Morvan Fraser, senior manager for IP sales at Metis Partners to preside over the sell-off.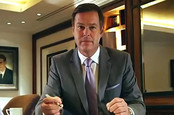 Dragons' Den badboy ups Expansys bid to £7.55m
READ MORE
The IP assets that went under the hammer included a branded e-commerce website and domain names, trade mark protection, and "extensive" customer data. Jones wrote the winning bid - the buy price has been speculated as being a healthy six figures but we have yet to confirm this.
Jones, whose portfolio of biz play things includes gadget seller Expansys, and photography chain Jessops, which he bought from administrators in 2013, has started searching for a digital marketing assistant for Maplin Electronics to be located at his Marlow HQ.
"We're an online electronics retailer, striving to become the ultimate destination for the tech savvy shopper," the online job ad stated. "Our mission is to hire a new team of brilliant brains which can help us bring this beloved site back online."
The ideal candidate will, the ad continued, have "real creative flair", a "good knowledge of online marketing tools and ability to create eye-catching, engaging content for our website and social media".
Maplin's digital marketing assistant will be tasked with building a team at a "young company at an exciting stage of growth". The same ad wording has also appeared on the recruitment site seeking a junior digital marketing assistant.
Online reseller BuyITDirect had voiced an interest in Maplin's IP but questioned what value Jones will realise.
"Any substantial payment for Maplin is a waste of money," MD Nick Glynne told us. "The only value that I see in a company that has gone into administration is to bring them back to life quickly. Speed is of the essence."
Maplin's website had been down for a couple of months and Google had de-indexed the domain, Glynne claimed, "so the residual SEO value has gone."
He said Jones will need to pump money into marketing the Maplin brand as it is no longer on the High Street and so not visible to customers in the same way it was - not that this helped Maplin to survive.
It seems the website is being prepared for a return.
Where did it all wrong for Maplin?
As exclusively revealed by The Register in October, credit insurer QBE pulled the rug from under Maplin's suppliers by refusing to indemnify their debts with the retailer.
Euler Hermes followed suit in December and in doing so, suppliers, including the UK's largest tech distributor Tech Data, refused to continue handing over products on tick. Trade credit insurer Atradius also withdrew its lines of cover around Christmas due to concerns of the weakened state of Maplin.
The subsequent cashflow crisis was the final nail in the coffin but the rot set in long ago, very long ago, according to some. Private equity completed numerous leveraged buyouts of Maplin and loaded up the balance sheet with debt. Jones won't be saddled with this burden where Maplin is concerned.
Running with the overheads of more than 200 stores across the UK, ill-judged forays into new areas, including smart homes and drones, and an inability to compete with online rivals also contributed to Maplin's demise.
PWC was appointed as administrator at the end of February around a week after crunch talks with a buyer proved futile. PWC was then appointed as a voluntary liquidator in May and set about closing the 211 stores across the UK.
The Register has asked Jones, PWC and Fraser at Metis Partners to comment.
Last time we spoke to Jones more than a few years ago, we disturbed him during filming of a series of Dragons' Den. "I can't talk now, I'm doing TV work," he told us. ®