Webinar series: Learn to build better apps with Microsoft's Azure cloud
Free sessions for Reg to readers explore cloud platform's main components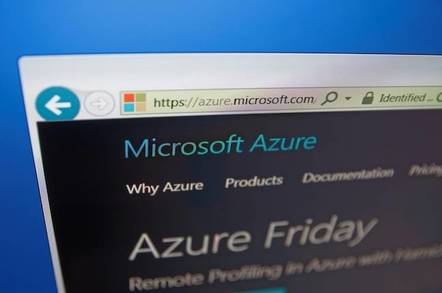 Promo Microsoft has launched a series of free on-demand webinars to help businesses make the best use of the varied resources that are looking to make Azure cloud services the platform of choice for building and deploying the next generation of modern applications.
Microsoft in-house experts and prominent partners will take you through a step by step guide on how to get started and offer you in-depth demonstrations of how you can use Azure's range of resources to build and deploy their applications to meet the SLA of the business, while keeping the lights on in your datacenters.
Learn more about Microsoft's Azure infrastructure services through this webinar series.
The session starts with an overview of how Azure infrastructure as a service examines the best tools to administer your resources in Azure, including the fundamentals of grouping resources and delegating access.
The overview also covers how you can deploy Azure Infrastructure Services on Linux and discusses key concepts of how to launch and configure Linux virtual machines.
Introduction to Azure virtual machines
This session explores the use of virtual machines in Azure covering the core infrastructure components of storage, network, monitoring and security. Learn how Azure's virtual machines can help you build a highly available solution.
Support for containers on Azure
Containers that group everything needed to run an app have become an essential building block for app developers, allowing fast deployment, portability across all hosted environments and agility in spinning components up and down.
Discover all there is to know about Azure containers, from Windows' container features to the Docker open platform, Azure Container Registry, the Azure Container Service with support for Kubernetes, and the newly launched OS virtualisation system Azure Container Instances.
Azure Site Recovery and Azure Backup
These are the two features of Azure that make it easy to avoid the consequences of lost data. The session will review the various options available to draw up reliable disaster recovery and backup plans.
A review of both the technical and non-technical fundamentals of Azure security, the session will look at the topic of certification against the best-in-class policies and procedures, and examine the security technologies Azure developers can use to deploy real solutions.
The on-premise solution for organisations reluctant to send sensitive data to the cloud, Azure Stack can leverage thousands of pre-built solutions from the Azure Marketplace online software store.
Learn about how companies can employ a selection of solutions previously available only in the public cloud, including open-source tools and technologies, as well as enterprise applications optimised to run on Azure.