BT scoops Home Counties chunk of new NHS IT contract
Competition is great, especially when the new contract's run by the old contractors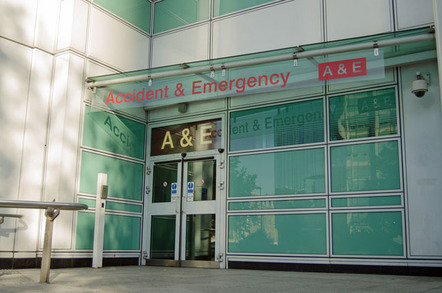 BT has won a five-year contract to supply comms and IT services to various chunks of the NHS.
BT reckoned the deal will help medics get themselves and their patients' data on the cloud, and then to "access patient data securely over high-bandwidth digital connections".
The Health and Social Care Network (HSCN) contract covers 24 NHS Trusts and Clinical Commissioning Groups, mostly based across the Home Counties and including Oxfordshire, Buckinghamshire, Berkshire, Sussex and Kent, among others.
"Trusts and CCGs will be able to choose the connections best suited to meet the needs of their patients as they update their IT and communications services to take greater advantage of modern technologies, such as digital voice services, videoconferencing, superfast fibre broadband and high-speed Wi-Fi," burbled the one-time state monopoly telco in a statement.
BT's Danny Longbottom, director of local gov and health, chipped in with a canned quote saying: "Secure, flexible, high speed connections are increasingly critical to delivering efficient, timely and patient-focused care. We're proud to be working in partnership with NHS Digital to offer a huge range of services to eligible NHS Trusts and CCGs across the South East under this new contract, including embedded security enhanced features – an absolute must when dealing with sensitive patient data and relying on cloud-based applications."
Despite all the self-puffery, HSCN merely replaces a previous BT system, N3, which closed to new business at the end of March 2017. According to NHS Digital, "well over 50 per cent" of N3 users have now dropped dosh on an HSCN provider, though the contract is not a BT monopoly.
As well as BT, the list of HSCN suppliers on the NHS Digital website includes Virgin Media, KCOM and Redcentric, among others.
Health sector IT has been a bone of contention for many years, ranging from the WannaCry ransomware outbreak last year that crippled the state health service to the HSCN contract itself. Back in 2015 the scheme, however, was noted by MPs to be gradually improving, in terms of whether the project would ever be delivered or not. ®
Sponsored: Practical tips for Office 365 tenant-to-tenant migration