You can buy Cisco CEO Chuck Robbins' mansion for a cool $13m
Small catch: You'd have to move to California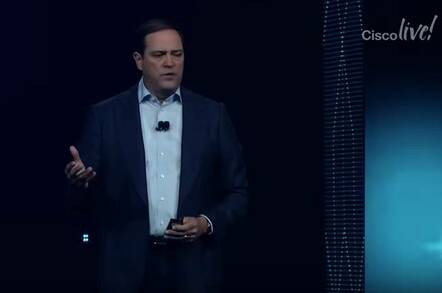 Cisco chief Chuck Robbins is flogging his Californian mansion for a cool $13.8m – or about eight hours of Cisco's quarterly profits.
Robbins bought his Los Gatos pad for $9.6m in 2009, according to an American property website.
"Built in 2005 and 'transformed in 2016', the 14,000-square-foot estate features cutting-edge amenities and a stylish white palette," burbles realtor-dot-com.
Various photos are available – Vulture Central's image budget is reserved for pictures of button-bashing figures in hoodies in front of waterfalls of 0s and 1s – but it seems old Chuckie's tastes are rather pleasant, with lots of open space and neutral shades.
The house has an open-plan kitchen and living room, formal dining room, home cinema setup, a gym, a wine cellar, games room and a bar.
There is no word on whether the house has a server cupboard or whether it is supplied with Cisco routers and switches for the internal Wi-Fi.
Last quarter Cisco posted net profits of $3.8bn which equates to $41m per day for the 92-day period. It declared $12.8bn in revenue in the quarter.
California, being home to Silicon Valley, is of course home to a whole hodload of tech execs who have ploughed their telephone-number salaries into building themselves really quite desirable homes.
A whole bunch live in the Atherton area, as Business Insider reported a while back, while Big Mickey D – Michael Dell – apparently owns a "sprawling property empire", or so we are told.
Naturally, Jeff Bezos of Amazon - the world's richest man - has built himself "a giant party pad", albeit in the Kalorama neighbourhood of Washington DC, while Bill Gates' mansion on the opposite coast in Medina, Washington is famously named Xanadu 2.0 after the summer capital of Kubla Khan's empire, as featured in the eponymous Samuel Taylor Coleridge poem. ®
Sponsored: How to get more from MicroStrategy by optimising your data stack