All clouds rain into VMware's steadily swelling coffers
Everything's embiggening – just don't ask about the Dell split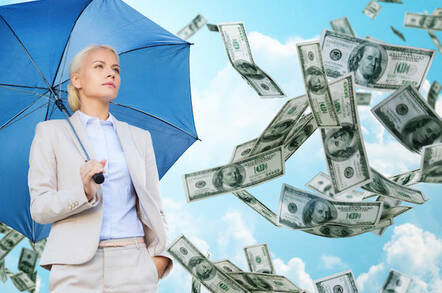 VMware keeps growing its sales like, depending on your opinion of the virtualization giant, weeds in an unkempt garden, or a lottery jackpot prize pool.
For the second quarter of its fiscal 2019 – the three months to August 3 – services revenues rose to $1.27bn, up 11 per cent year-on-year. Along with $90m in licensing, up 15 per cent, the hypervisor maker therefore trousered $2.17bn in revenue, up 12.5 per cent year-on-year, with profits coming in at a healthy $644m for the quarter, up 58 per cent.
"Our networking portfolio experienced healthy license bookings growth this past quarter, with 82 companies of the Fortune 100 having now adopted NSX. We are seeing customers embrace the virtual cloud network strategy that we unveiled in Q1," chief exec Pat Gelsinger boasted on an earnings call with financial analysts following the release of the figures on Thursday.
The company's NSX portfolio, which includes its VeloCloud product, reported 40 per cent growth in license bookings year-on-year, while vSAN license bookings were up 70 per cent year-on-year.
Nine out of ten of VMware's top deals in the quarter were for its NSX software-defined data centre virtualization platform, and that led Gelsinger to claim it's "becoming the standard for software-defined networking."
Gelsinger said another upside for VMware is a move among enterprises to "repatriate some of their cloud workloads" in a more hybrid model. That provides the chance to sell its core compute platforms to those customers, and he said "that's an opportunity to sell the rest of the portfolio."
"We clearly see this hybrid computing model right, as the right answer," said Gelsinger in response to an analyst's question. "And as customers are beginning to see the strength of VMware in the cloud, they are becoming more confident in the strategic commitment to us on-premise."
Product licenses also performed well, adding 15 per cent year-on-year to hit $900m. CFO Zane Rowe said licenses gained in double digits in "all major product categories". The company put that down to strong channel growth, customer momentum in North America and the EMEA markets, and its German VMware Cloud launch.
Neither Rowe nor Gelsinger, however, would comment on the financial predictions made by both VMware and parent company Dell Technologies in a stock exchange filing made a few weeks ago as part of Dell's plans to go public again. In that filing was VMware's belief that by going it alone, it could be posting gross profits (EBITDA) of $4.8bn by the year 2023.
"The S-4 filing obviously had some projections that were specific projections for a specific purpose under a variety of assumptions that we wouldn't go into on this call," said Rowe.
VMware expects total revenue for FY 2019 to hit $8.82bn, up 12.2 per cent year-on-year. Its results announcement can be found right here [PDF]. ®
Sponsored: Webcast: Build the next generation of your business in the public cloud