Samsung Galaxy Watch: A tough and classy activity tracker
Fourth time lucky?
Hands On Platform rivals to the Apple's WatchOS have been stagnating for years, with no new silicon from Qualcomm with which to take on the (now) all-conquering Apple smartwatch since 2016. Samsung isn't dependent on San Diego for silicon though, and it has put the latest it can into its new wearables – and seriously revived the race.
Judging from the pre-release models I tried, Samsung is at last taking its own scattergun wearables portfolio much more seriously.
The Gear branding has been dropped for the first "Galaxy Watch", which looks both classy and robust - and touts a very long battery life.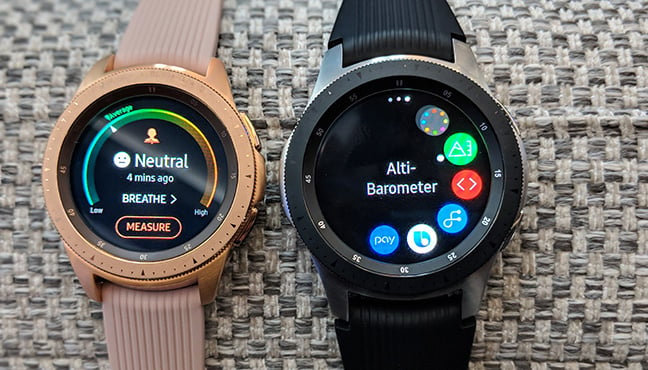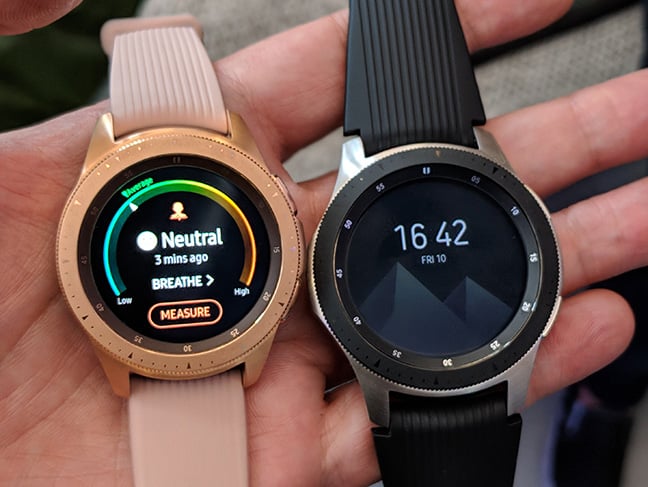 The Galaxy Watch comes in 42mm and 46mm display sizes (with standard pin-release 20mm and 22mm straps) with Samsung claiming seven days of battery life for the Tizen-powered wearable. It is also packed in an LTE eSIM, so with the help of a mobile network, you'll be able to answer calls and texts on the wrist, leaving your phone at home.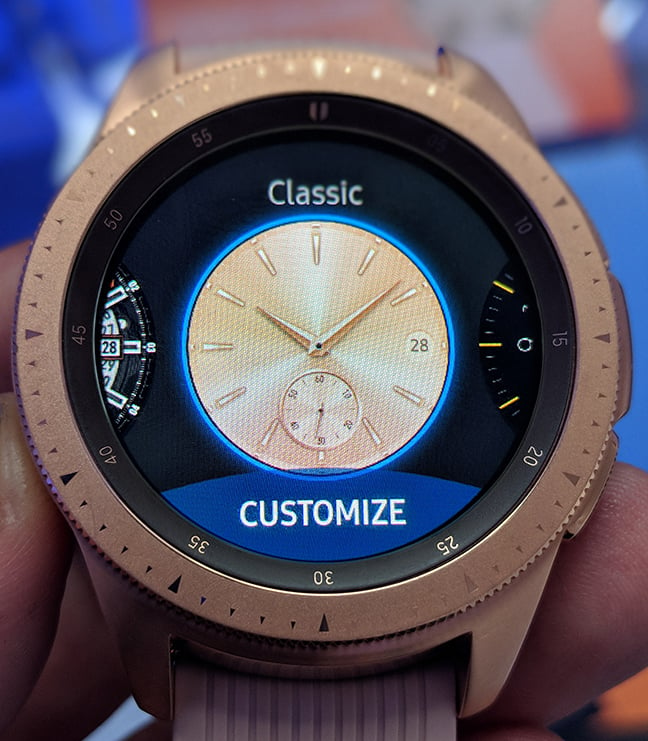 A closeup of the rather fussy bezel - which is at least easy to grip and turn
We never thought shoving LTE into a watch was a brilliant idea, and neither does the mass market, it seems. You must sign up to the same network you use for the phone, and almost a year after launch, only EE provides Watch 3 LTE support in the UK. That's a fiver a month for something that's only really useful in emergencies. It's no phone replacement.
Perhaps Samsung's market testing has told it the same thing - for the LTE feature was barely mentioned. It has instead designed it as a high quality fitness wearable, with over 40 workouts built in (more are being added all the time), and half a dozen of the most popular being auto-detected.
Samsung has tested waterproofing to 50m, as with the Gear Sport, but claims it confirms to MIL-STD-810G tests too - a suite that includes pressure and shock, although these aren't explicitly covered by the information released by Samsung so far.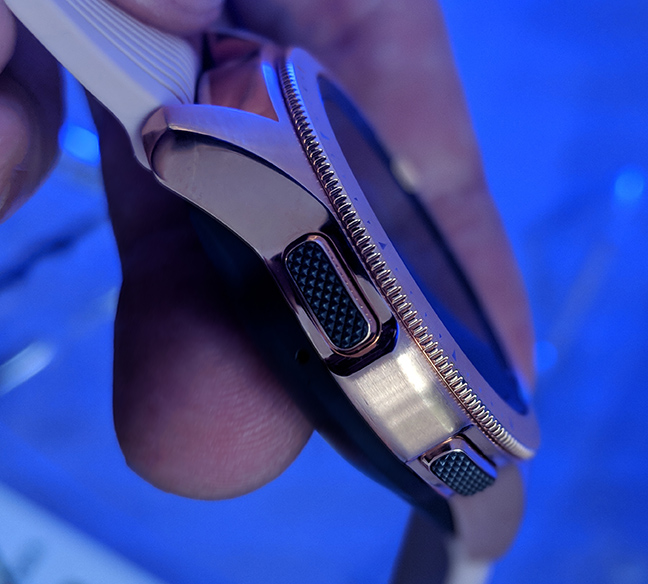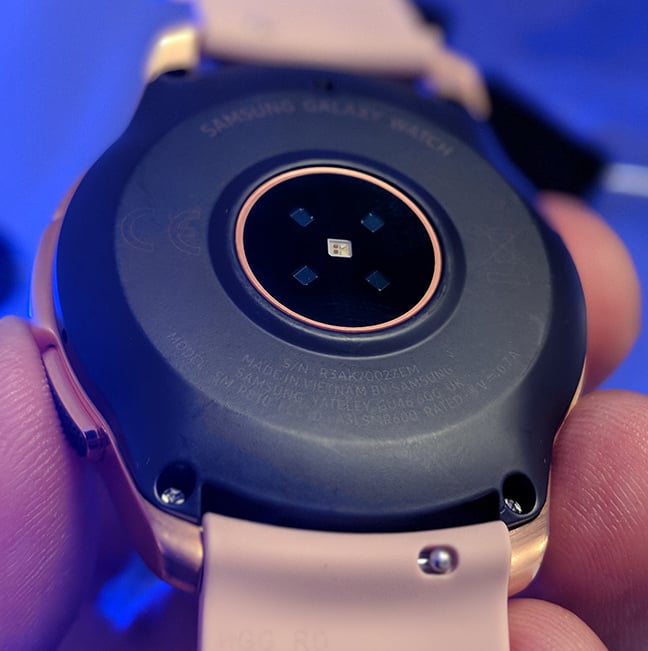 The build quality is really outstanding, and Samsung retains the Watch's best feature: the rotating bezel. The large version comes in silver and black, while the gold model is only in the smaller size. The latter should broaden its appeal. There's room for a 472mAh battery in the larger one; it's 270mAh in the smaller model.
As for the silicon we mentioned earlier, the Exynos 9110 Dual core 1.15GHz has been optimised for the wrist, Samsung says. Not that speed is a particular bottleneck: the main frustration with smartwatches - based on my own use, and informal polling - is slow activity startups (particularly GPS) and sluggish or unreliable notifications.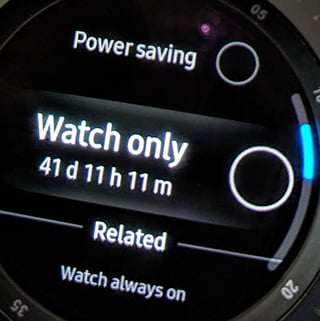 Turn everything "smart" off and you've got a timepiece with some endurance, I discovered.
The wearable flavour of Tizen OS gets a nominal upgrade from 3.0 (found in the most recent Tizen watch, the Gear Sport) to 4.0, but from my time with the Watch, I couldn't tell any new system level changes. Tizen's dearth of third-party apps was, until recently, considered fatal to the platform's chances. But nobody really cares about watch apps any more: it's all about activity and notifications.
Pricing remains about the same: £279 for the smaller version, £299 for the larger version.
The Samsung watches include the undervalued Samsung Pay, which doesn't need a companion Samsung handset to work, and it has worked on all recent models I've tried. (Although it didn't on a Pixel running the first release of Android 9 Pie.)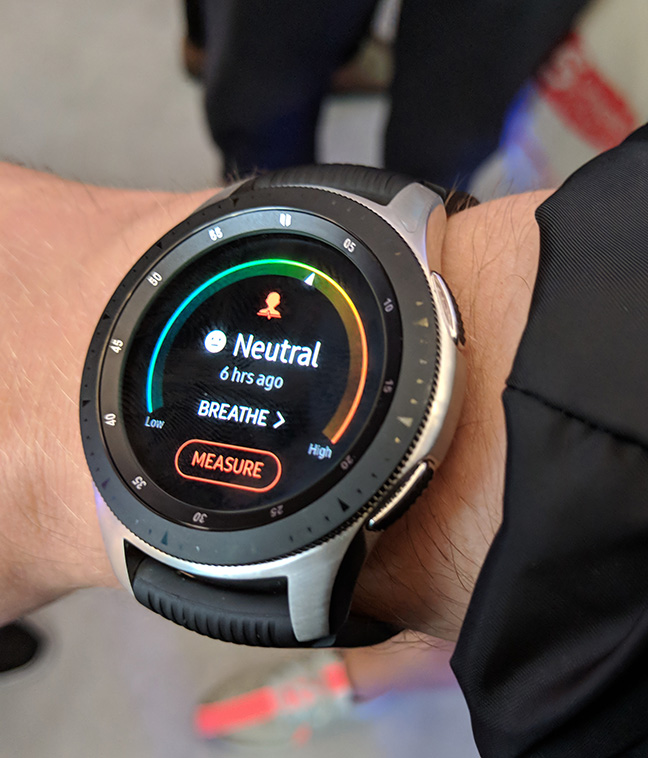 Definitely a statement. Of what, though?
®
Watchnote
Find the full vendor-supplied specs here.
Sponsored: Webcast: Why you need managed detection and response