Edge, Azure and Windows Phone receives a Telegram. Yup, it's the week at Microsoft
Managed Disks? Pick a size, any size...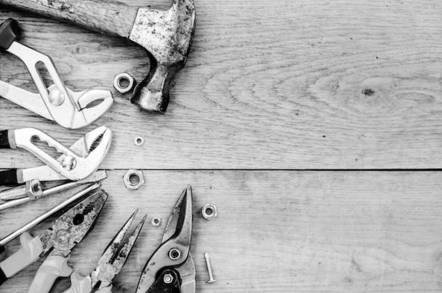 There was more to Microsoft last week than the launch of a little brother for the Surface Pro. Here are some of the stories you may have missed amid the fondleslab furore.
Web Authentication in Edge
Microsoft's attempts to get people to use its unloved Edge browser continued with support for the Candidate Recommendation (CR) of the W3C Web Authentication APIs appearing in build 17723 of Windows 10.
The theory goes that users of browsers that support the standard can dispense with archaic, and frequently insecure, passwords and instead use the likes of biometrics to authenticate themselves. Microsoft helpfully has just the thing – Windows Hello makes a pretty good fist of facial, fingerprint or PIN-based authentication.
Though Microsoft claimed it has been "leading the charge" towards a world without passwords, both Google and Firefox have also introduced support for the standard in their respective browsers. Redmond, however, reckons its implementation "provides the most complete support for Web Authentication to date, with support for a wider variety of authenticators than other browsers".
While Apple might cough politely at this and gesture vaguely at Face ID, Safari, alas, does not support the standard, which has been developed in conjunction with the FIDO Alliance.
Telegram hands Windows Phone a Passport to fend off oblivion
Encrypted message slinger Telegram took a break from a surprise tour of Iran to squeeze out a new version of its app for Windows Phone. While Microsoft's mobile OS hasn't moved from its armchair for quite some time and, frankly, is beginning to smell a bit, Telegram has continued to prod it with app updates.
Version 3.2 adds support for Telegram's shiny new Passport feature, which allows users to stash files and identity information in Telegram's cloud. Telegram users can then include these documents in messages without having to upload them every time.
The increasingly exclusive club of Windows Phone 8, 8.1 and 10 users can grab the update now.
HoloLens updated
Microsoft's innovative HoloLens has been receiving a lot of love from Redmond lately. One might almost suspect a new version was imminent.
Alongside Windows Insider builds, Redmond released build 17720 of the OS for its pricey augmented reality headset.
Notable new functionality includes the ability to project HoloLens visuals to a nearby Miracast device (Microsoft will happily sell you a Surface if you don't have anything handy) and wearers can respond to Windows 10-style notifications by simply gazing at the things. Developers get support for the Camera Capture API and admins will be delighted to know the headgear can now be tracked by serial numbers in their MDM system.
Azure Managed Disks
Users lost in the wilderness of unmanaged storage in Azure now have a migration path to the wonderful world of Managed Disks, so sayeth Microsoft.
Unmanaged disks are the traditional storage for Virtual Machines (VM) in Azure. Though easy to set up, the onus is very much on the user to ensure the correct storage type is selected. Users must then carefully manage storage accounts to avoid VM throttling.
Managed Disks, on the other hand, just require the user to pick a size of disk and a performance tier. Azure then deals with everything else (such as scaling). While admins might fret about the loss of absolute control, Microsoft claims the convenience means customers "love" the service.
However, migrating from unmanaged to Managed Disks has usually required a bit of PowerShell wizardry, which can put users off. Last week's announcement means that making the change requires only a single click. And an Excel spreadsheet to check the cost implications of clicking that button...®
Sponsored: Detecting cyber attacks as a small to medium business