Summer nights? Cool down and help Action for Children
Signup for Byte Night and start raising cash now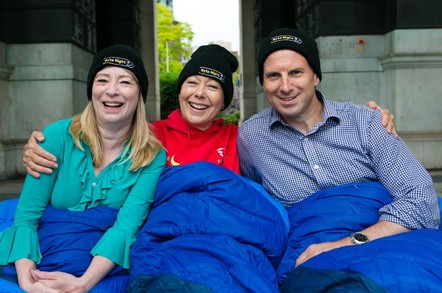 If you can't sleep because of the heat, we've got a surefire to take your mind off it - join 100s of your industry peers in October on the chilly cobbles of a town near you and raise money for Action for Children's annual Byte Night sleep out.
When the sun's in the sky and the nights are balmy, it's easy to forget just how grim it can be for vulnerable young people all year round. But if you, and your colleagues, can tough it out on the night of October 5, you'll be making a genuine contribution to Action for Children's work helping vulnerable children and their families, 365 days a year.
You've got a choice of 12 different locations the length and breadth of the UK, including new addition, Leeds. So whether you spend your days looking after the systems that make the money go round in the City, answering support calls in Bristol, or keeping production lines going in the North West, there'll be a spot for you.
Once you're there, you'll get a hot dinner and the chance to share a few drinks in the company of your peers, as well as a smattering of tech luminaries and the odd celebrity before you roll out your sleeping bag for the night.
You'll awaken to a hot breakfast before heading home, possibly tired, but certainly feeling the warm glow that comes from knowing you've made a real contribution to Action for Children's work.
And all ACH's work is valuable, whether it's safeguarding children, helping kids in care, supporting young carers, or helping youngsters with employment and training services that will enable them to fulfil their potential and help them into the sort of jobs that you do.
Getting started couldn't be simpler. Just head over to the Byte Night website and register yourself, or your team. You'll get a stack of suggestions to raise cash between now and the night in question. ®
Sponsored: Becoming a Pragmatic Security Leader