5G whizz: Ericsson just turned in first profit since 2016
Networks the wind beneath Börje Ekholm's wings
Ericsson has dodged a loss for the first time in two years, after 18 months under the strict regime imposed by CEO Börje Ekholm, who took the reins at the vendor at the start of 2017.
Under Ekholm, the company has shed more than 20,000 jobs (around 14,000 in direct employees) and cut more than 10 billion Swedish kronor — more than $1.1bn — in costs, and in its quarterly results announced yesterday it recorded SEK 200m ($22.4m) operating profit - compared with a SEK 500m ($56.7m) loss at the same time last year. Net sales for the quarter were SEK 43.4bn ($4.9bn - down 1 per cent year on year).
That's the first time Ericsson has evaded a loss since 2016, and while the operating margin of 4.1 per cent is slim, Ekholm said it's tracking towards the company's 2020 target of 10 per cent.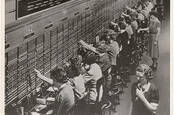 Ericsson's losses narrow, but its pulse is still weak
READ MORE
The profit result was in spite of that 1 per cent slide in total sales compared to the June quarter last year, but the company's network segment was more pleasing: its net sales grew by 2 per cent year-on-year, with a strong contribution from North America.
Excluding restructuring charges, the network segment showed an operating margin of 13.3 per cent, and managed services also showed a good margin of 6.5 per cent.
Elkhom attributed the company's performance on a surprising acceleration in 5G activity, which he said was "stronger than we anticipated just six to nine months ago".
In Ericsson's announcement, Elkhom said the company will commit to further investments in 5G R&D, and plans to extend its footprint to reach more operators preparing for 5G.
"5G has been dramatically accelerated over the past 18 to 24 months," he said, including the progress of standardisation. As a result, he added, "we're seeing more traction with our customers than the overall market reports seem to indicate, so we're very excited".
Elkhom could at least hope that the 5G business could also benefit from the US's growing hostility to Chinese vendors, although he said "we should not think this is only a US or North America opportunity".
While North America is going well, "we get a lot of engagement in other markets". Elkhom cited South East Asia, Australia, and the Middle East as examples.
The operator's shift to virtualisation is changing Ericsson in a similar way to what is happening at Cisco. Elkhom told the company's results call "we see that the operators are preparing their networks with virtualisation … they basically depend on having programmable networks."
Changes in the packet core, the operational support systems, and IMS (IP multimedia services) will be "converted more into software sales," he explained. "We've been service-heavy before — we're trying to pre-integrate solutions to provide to our customers, and this should translate to better growth with our customers."
Ericsson's net sales segment results were Networks $3.67bn (SEK 32.4bn); Digital Services $1bn (SEK 8.8bn); Managed Services $0.73bn (SEK 6.5bn); and Emerging Business $0.24bn (SEK 2.1bn). The full results are here (PDF). ®
Sponsored: Webcast: Build the next generation of your business in the public cloud