Leatherbound analogue password manager: For the hipster who doesn't mind losing everything
Notebook undermines years of good security hygiene with style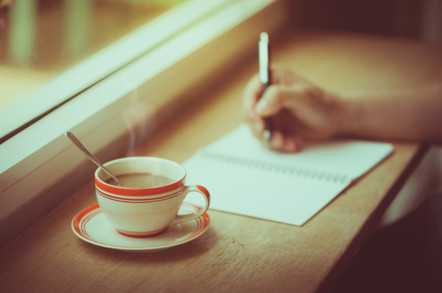 News reaches us that will leave password management outfits quaking in their boots. The Conran Shop has a solution for forgetful users, and it is a snip at a mere £22.
Users need to remember a bewildering array of passwords just to get through an average day, which can lead to some pretty shoddy practices as revealed in the multitude of credential leaks over the years.
Solutions have ranged from the biometric, courtesy of fingerprint reading or gawping dead-eyed at the camera of a mobile phone, to vault-based, where one uses a service such as LastPass or Dashlane to keep track of accounts and login information.
However, those solutions require having a charged and connected mobile phone to hand, and occasionally also remembering a password to get into the password storage service itself.
Help is at hand, courtesy of the store founded by design guru Terence Conran back in 1974. The 8cm x 6cm black leather pocket book allows users to undermine the IT industry's attempts at online security by, er, writing everything down. Helpfully labelled "Logins & Passwords", the pocketbook also includes a helpful index to assist thieves users in retrieving confidential account information in no time at all.
For those with a little less cash to splash and who may be less concerned about their high-end design credentials, Amazon will happily sell you something similar, in dayglo orange, and will even throw in a pen.
Well, actually...
In fairness, there are good reasons for writing down account information on paper. It isn't subject to the same malware that plagues computing. Nor will it suddenly disappear when a service unexpectedly runs out of money.
Paper also doesn't need battery power and is easier to work with for users that are not confident with using password vaults.
However, without some sort of user-generated obfuscation, putting the keys to the kingdom in a paper book that can be lost or stolen is a bad idea. And that's without the inevitable tumble of the book into a toilet at the worst possible moment.
The continued existence of password books that are actually labelled as such, in big friendly letters, indicates the IT industry needs to try harder when it comes to helping users to follow good practice. ®
Sponsored: Webcast: Why you need managed detection and response