Ex-Intel exec Diane Bryant exits Google cloud
Could Chipzilla replace Brian with a Bryant?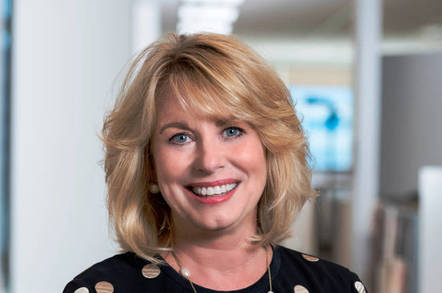 In 2017 Diane Bryant left her post as group president of Intel's data center group after a 30-year Chipzilla career, then took up a gig as chief operating officer of Google's cloud business. Now, she's left Google after just seven months.
Bryant left Intel's Data Center Group in May 2017. The company cited unspecified "personal reasons" as the reason for her departure.
At the time of her departure, Bryant's Group was responsible for US$4.2 billion of Intel's quarterly $14.8 billion in revenue.
In November 2017 Google cloud supremo Diane Greene welcomed Bryant as COO of Google Cloud, citing her experience, talents, business focus, and "outstanding thirty-year career in technology".
Now Google has told newswire Bloomberg and Reuters that Bryant has bailed, and offered boilerplate best wishes.
And Intel, of course, needs a new boss after CEO Brian Krzanich departed abruptly in June after "a past consensual relationship with an Intel employee".
Intel therefore finds itself with a proven and successful known quantity alumnus out of a job at the time it needs a new leader.
One more thing: Intel has never gone outside the company for a CEO.
There's a case to be made for doing so now, as while Intel remains a powerhouse it has stumbled a few times in recent years, suggesting a new broom may not be the worst thing that could happen to the company. But Bryant does tick a few boxes: she knows Intel, she's had a taste of the cloud and she's seemingly available. ®
Sponsored: What next after Netezza?