ICO seeks views on how tween-friendly websites should be designed
More Pewdiepie is definitely not an option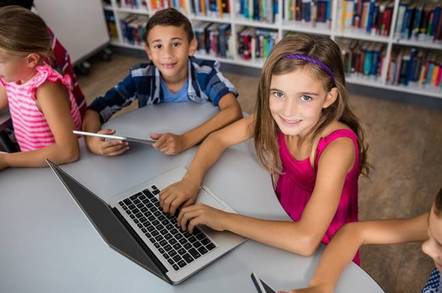 The UK's data protection watchdog is crowdsourcing ideas for the code that will govern how websites and apps aimed at under-16s are designed.
Children's use of technology is a recurring problem for the government, which needs to be seen protecting the youth of today without appearing like Luddites to those who value technology's impact on society.
Recent run-ins would indicate that the pressure of the kids' lobby can win out over those in the fields of online security or open rights (or perhaps even common sense).
Nonetheless, the Information Commissioner's Office – which has to publish a statutory code on age-appropriate design as part of the Data Protection Act – has today acknowledged this fine balancing act as it called for opinions on the code.
"Whether playing online games, watching and sharing videos or interacting with friends via apps and social media, children today grow up with digital technology as a fundamental part of their daily lives. This is a good thing," intoned commissioner Elizabeth Denham.
"But while allowing them access to the many benefits that technology brings, we must protect their privacy and best interests when online. This is a challenging task, but one we have to get right."
The ICO's call for evidence is seeking views on how websites and apps should be designed to take into account children's rights and needs, from industry, online service providers, academics and children's advocacy services.
As well as the more obvious issues the ICO will have to grapple with – such as how to crack down on sites' or apps' attempts to keep children online longer, like autoplay or push notifications – it will also consider language and the way privacy notices are written.
The code is also expected to set rules on automated profiling of children, the use of geolocation data and how to ensure transparency on advertising and marketing.
Separately, the ICO said it plans to run a direct consultation with children, parents and guardians – an effort to emphasise the importance it is putting on the opinions of those who are going to be affected by the code.
The call for evidence comes as the UK's digital secretary has made a series of media pronouncements on his own opinions on children and tech. He last week launched a call for schools to ban the use of phones on their premises and earlier revealed that his kids don't get to go on social media (possibly because he doesn't want them trolling constituents on his eponymous app).
Privacy campaigners would no doubt argue that the government might want to start looking a bit closer to home if it is keen to protect children. The Department for Education was recently forced to backtrack on its controversial mass data slurp on pupil nationalities.
The deadline for submissions to the ICO's consultation is 19 September.®