PC nerds: Can't get no SATA-isfaction? Toshiba flaunts NVMe SSD action
Claims years-in-dev tech doubles speed
Toshiba has claimed its new consumer NVMe SSD blasts the performance cobwebs off SATA SSDs.
The RC100 is an M.2 card format SSD and was previewed at CES in January. Toshiba has positioned it as a budget drive and hopes it will spread NVMe adoption outwards from the enterprise market to the consumer one.
Comparing it with Toshiba's two-year-old Q300 Pro shows what a difference two years can make in storage tech.
The Q300 Pro came in 256GB, 512GB and 1TB capacity points. It used 15nm MLC (2bits/cell) flash with a 6Gbit/s SATA interface, and was positioned as an SSD for gamers and workstations.
The RC100 is an M.2 (2242 card) format drive, using TLC (3bits/cell) 64-layer 3D NAND with a PCie gen 3 interface. It is classed as a budget NVMe SSD and comes in 120, 240 and 480GB capacities.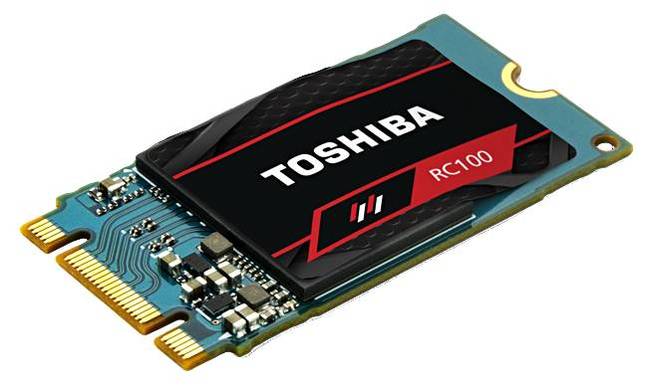 The use of 3D NAND gets us more capacity in less space, while the NVMe interface seemingly blows SATA away, as evidenced by the table below:
| | | | | | |
| --- | --- | --- | --- | --- | --- |
|   | Format | Random Read IOPS | Random Write IOPS | Sequential Read | Sequential Write |
| Q300 Pro | 2.5-inch | 92,000 | 63,000 | 550 MB/sec | 520 MB/sec |
| RC100 | M.2 | 160,000 | 120,000 | 1,620 MB/sec | 1,130 MB/sec |
The RC100 is more than twice as fast on all these measures. It also costs less than the Q300 Pro.
Newegg stocks the 480GB RC100 product at $154.99.
The 512GB Q300 Pro cost around $210 in 2016.
Not for nothing, but you can still buy a 512GB Q300 Pro on Amazon for $553.28. ®
Sponsored: What next after Netezza?