Dual-screen laptops debut at Asus' Computex chat
One has a screen on the touchpad, the other's a no-real-keyboard clamshell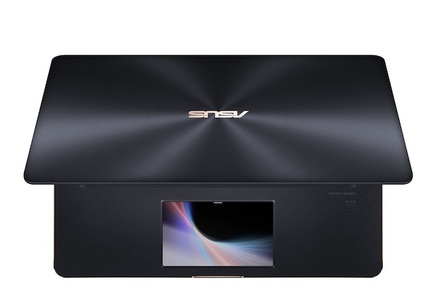 Asus has staged its annual Computex keynote and shown off laptops with dual screens.
One is real product: the ZenBook Pro 15 is a 15-incher packing CPUs up to a hex-core Core i9, 16GB RAM, GeForce GTX 1050 Ti and a 1TB solid state disk.
There's also a main 15.6" screen capable of 4K UHD. And then there's the second screen, a full HD affair that nestles within the PC's touchpad.
Asus has called this the "ScreenPad" and has designed apps including a calculator and custom controls for Microsoft Office and YouTube to run in it.
When you run the ScreenPad, the touchpad won't work. The Register imagines the F6 key that activates the feature will therefore get quite a workout. Here's how it all works in (slightly saccharine) action
The laptop goes on sale in "mid-July 2018" at US$2299.
Asus' other two-screener is "Project Precog" that the company said it hopes to put on sale some time in 2019. The machine does away with the keyboard-and-trackpad side of the clamshell and replaces with a second touch screen. The device figures out when you need a keyboard and puts one on-screen.
At the time of writing Asus had not released phots of the device other than in Tweets like this one.
#ProjectPreCog is nothing short of incredible. We had to jostle for a space to take photos of today's #Computex2018 super star. It's sooo shiny and super lit! 🤩🤩 How's that for #CreativePower? pic.twitter.com/ioBtYPWDBx

— ASUS (@ASUS) June 5, 2018
Asus Computex' keynotes always feature founder Johnny Shih announcing impressive products in his uniquely florid style. But those efforts consistently see it in between fourth and sixth place among all PC vendors, with annual shipments of around 18 million.
Selling 18 million of anything in a year is a mighty effort, as is coming in fourth, fifth or sixth in a global market. Yet buyers are clearly more interested in the comparatively conservative wares sold by Lenovo, Dell, HP Ink and Apple than they are in Asus' efforts. ®
Sponsored: Webcast: Build the next generation of your business in the public cloud