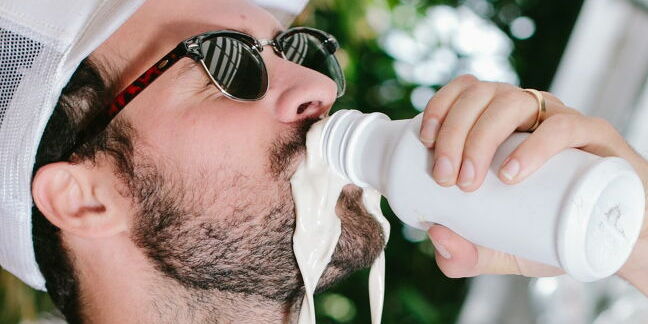 Food snobs have been tricked into saying they like Greggs after the British high-street pasty biz went undercover at a London festival.
Visitors to the Foodies Festival were fooled into thinking "Gregory And Gregory" was the latest purveyor of gourmet salads by posh signage and smart aprons, complete with geometric leaf logo to signal its achingly cool and healthy credentials.
Not to mention the fact that the proffered products – a feta, beetroot and grain salad, and a vegan bean wrap, to name but two – were a million miles away from your typical Greggs munch.
"The avocado is so au fait at the moment, it definitely pops," said one easily persuaded chap in a flat cap and naval-inspired jacket embroidered with red and gold brocade.
"It's like sushi in a bowl," another unsuspecting Greggs fan gushed in the candid camera vid released by the firm.
The effusive bunch showed varied levels of surprise after the "big reveal", when assistants turned round the muted grey sign to show Greggs' orange-and-blue logo.
"Dear God! You're joking!" comes one entirely proportionate reaction, while another looks about ready to spit out his salad.
"See I would never go into Greggs," muses a couple that have clearly been missing out on low-cost cheese and onion pasties and iced buns all their lives.
No doubt the pastry pushers will be pleased that this PR prank has turned out better than its Advent Calendar, which featured a Baby Jesus sausage roll and a love scene involving a Festive Bake.
But El Reg is concerned that Greggs' focus on summer salads will draw attention away from its core products and especially with the recent death of well-loved high street brands, it can't be a good idea for it to lose sight of the pastry upstarts. ®
Sponsored: How to simplify data protection on Amazon Web Services