It's hip to be Square: Twitter founder Jack Dorsey's other firm targets White Van Man
We speak to the ex-Apple hardware guru taking on banks and PayPal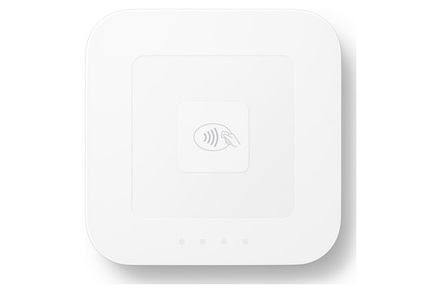 Profile Ever wandered into a bank on weekday morning and marvelled at length of the queue? In a supposedly cashless era, it's the sight of a nation of shopkeepers depositing its cash.
Co-founded by Twitter CEO Jack Dorsey, Square brings credit card payments to merchants who'd find them otherwise prohibitively complicated and expensive, rolling three separate procurement tasks into one. Square couldn't really be more different to Twitter (a global IRC channel with hygiene issues) as it has such an obvious, practical everyday value proposition, and is in a complex competitive market.
Square took seven years to reach the UK, but is playing catch-up fast. It has to. With two of its biggest rivals, PayPal and iZettle, set to merge in a $2.2bn deal announced last week, Dorsey's publicly traded company has a fight on its hands.
Dorsey was originally perplexed that small American businesses, typically mom-and-pop shops or sole traders, couldn't process credit cards in the iPhone age. All that processing power and connectivity was going unused. Bigger retailers had the time and resources to take on the complex procurement required to handle credit card payments: source the payment terminals, choose the Point-of-Sale software, and make arrangements with banks and credit card companies, and all the paperwork that goes with it. Faced with this, tiny businesses found it more convenient to stick with cash. Square offered to roll the three chores into one.
Square's proposition was based around a cheap dongle that piggybacked on a smartphone. The first Square reader plugged into the iPhone's audio jack port. Buy the dongle for a few quid, set up an account, and you're up and running in a few minutes. Square makes its money by taking a 1.75 per cent cut of the transaction (it's 2.75 per cent in the US) and guarantees the funds are in your account the next day. Or the same day, for an extra 1 per cent.
Square was processing $1bn of transactions after a year, and £20bn by the end of 2013. It floated successfully in 2015 and its share price has more than doubled over the year.
The company likes to recount how it has transformed the businesses of builders and florists: typically cash or cash-centric businesses. White Van Man can now whip out his or her phone and take a credit card payment. There's a macroeconomic benefit too.
People also spend more when they can pay by card. And there should be invisible savings as the queues at the bank diminish, Square hardware chief Jesse Dorogusker told me this week.
"We don't count the cost of cash to the economy: processing it, reconciling it, moving it around. It's enormous."
El Reg was keen to meet Dorogusker because Square has a decent hardware story. Dorogusker was formerly director of engineering for Apple's iPhone, iPad, and iPod Accessories business. He joined when the iPod team had 30 engineers and helped bring Lightning into the world. Over eight years Apple transformed from a small boutique player to the largest tech company in the world.
The Square hardware is developed in house with Square's custom SoC processor and its own board design. There's even a FPGA in there, Dorogusker told us. The silicon is designed in Toronto and the electrical in San Francisco.
Why invest in hardware for such a low-cost commodity bit of gear? Dorogusker said it saves money as, unlike a Verifone, it knows exactly what the terminal requires from a segment of the retail economy. Setting up a payments company is a lot of regulatory work, but from an engineer's point of view, it's the EMV protocols – developed by Europay, Mastercard and Visa – that cause Dorogusker the most headaches.
"EMV is chatty – it was designed for a phone line and unlimited power. But really it's the bank talking to itself." It's also ancient, developed in the early 1990s.
At least the contactless protocols are faster, he notes. But the US banks had taken another bizarre decision when they rolled out chip and pin, but didn't include contactless payment support. They saved a few pennies per card by omitting contactless payments, but now find Apple and Google leapfrogging them. No wonder it sees the UK with its entrepreneurial economy as promising.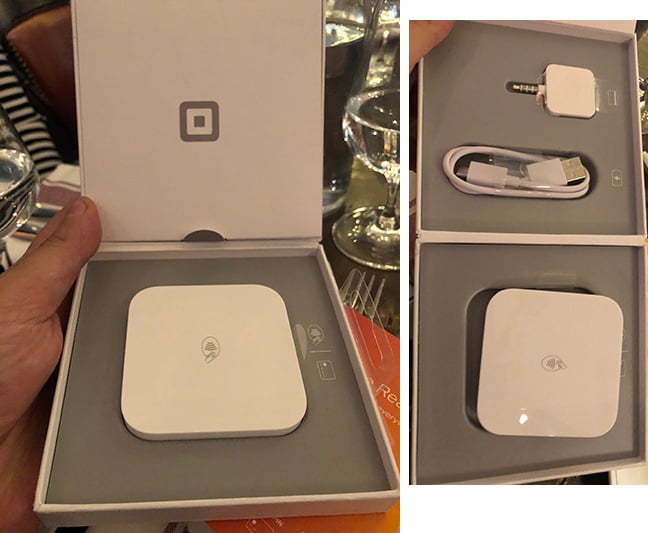 Square's contactless reader fits on a keyring and looks like a miniature mid-00s Apple Airport. This is probably not a coincidence
Square's current Reader (check out a teardown here) is wireless and these days costs more than a fiver (£49.95 at the Apple Store or Argos).
But Square knows it can't compete on hardware alone, now that PayPal is buying iZettle, and its original USP of a fixed transaction fee is no longer unique. As FastCompany noted, one day the credit card companies may get their act together and drop the fee.
So Square is talking up the software: the retailer's dashboard, cloud PoS software you can edit easily from an iPhone or iPad, the insights into demand derived from data analysis (yes, machine learning is useful here, Dorogusker says) and emphasising the overall proposition as a useful service for SMEs.
Aware of intense competition in payments, and the idea that the lumbering finance giants will eventually get their game together, Square is looking for new ways to add value. It's fleshing out the cloud-based PoS software to give the merchant a data dashboard. Another idea is a vertical offering for restaurants. "A restaurant in San Francisco can clear $1m a year – it's small but it's serious money," notes Dorogusker. The purchase of food delivery startup Caviar allows restaurants to juggle the orders coming in over competing online middlemen like JustEat. That hasn't launched in the UK.
With so much of the economy still cash-in-hand, it's hard to see companies like Square accelerating the final demise of cash. But the attractions are obvious: nobody likes to spend all morning in a queue to deposit cash at the bank.
The new Stand launched yesterday at £64. Bring your own iPad. ®