Orbital ATK launches another Cygnus without anything blowing up
Revamped Antares booster lobs cargo freighter at ISS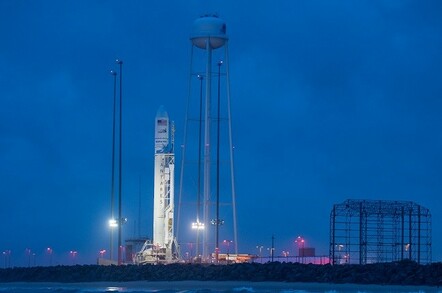 Orbital ATK's Cygnus freighter launched from Wallops Island, Virginia, this morning carrying supplies, spares and science to the International Space Station.
While SpaceX tends to grab the headlines with its crowd-pleasing habit of landing rockets, Orbital ATK continues to plug away with its more traditional and expendable Antares booster.
Introduced in 2013, Antares managed four successful launches, including three to the International Space Station (ISS), before things turned explodey in 2014 thanks to the elderly Russian engines used in the rocket's first stage.
The spectacular explosion caused extensive damage to NASA's Wallops launch complex. Orbital ATK then had to use Atlas V boosters to get its cargo ships into orbit until a redesigned Antares, with slightly less elderly Russian engines, arrived in 2016.
The mission is the tenth of Orbital's Cygnus freighter (including the unfortunate "Deke Slayton", which was sat atop Antares when fire-based disassembly occurred.)
The spacecraft can carry up to 3,750kg (depending on the rocket on which it is launched) and needs to be manually grabbed by an astronaut wielding the space station's robot arm.
Orbital has a habit of naming their missions after astronauts. The latest Cygnus mixes things up somewhat by being named for the late James R Thompson, formerly a director of NASA's Marshall Space Flight Center before joining Orbital Sciences in 1991 as CTO.
As well as cargo for the ISS, the mission also carries three CubeSats, designed to test ways of overcoming radio interference, measure cloud and precipitation and demonstrate a pop-up umbrella-like payload antenna.
Unlike SpaceX's Dragon, Cygnus cannot return cargo to earth. Once its mission is complete, ISS 'nauts will load the freighter with garbage and send it to burn up in the Earth's atmosphere. ®
Sponsored: Detecting cyber attacks as a small to medium business