Intel has tuned its Optane gaming drives with the 905P upgrade on the 900P, broadly doubling capacity and slightly boosting topline performance.
The Optane 900P came in a 2.5-inch (U2) format with 280GB capacity and a half-height, half-length add-in card (AIC) format with 280 and 480GB capacities.
Chipzilla has given the 905P 2.5-inch drive 480GB and the AIC version 960GB, using the same 3D XPoint media. It has also slapped twin blue LED edging lights on the AIC card – weird considering it's installed inside a case. The 905P is said to be optimised for fast application loading, RAID, and faster boot times.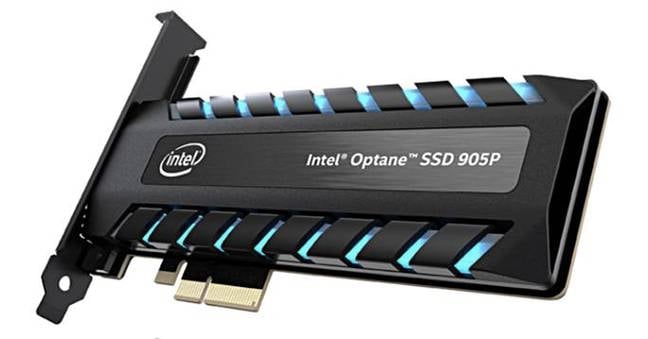 Optane 905P AIC with snazzy blue lights
The 900P's topline performance was up to 550,000/500,000 random read/write IOPS and 2.5/2.0GB/sec sequential read/write bandwidth.
These numbers go up a smidge on the 905P – 575,000/500,000 random read/write IOPS and 2.6/2.2GB/sec sequential read/write bandwidth.
The latency is the same as the 900P at less than 10μs read and write. The pricing is $1,200 for the 960GB product and $599 for 480GB. Are they worth it?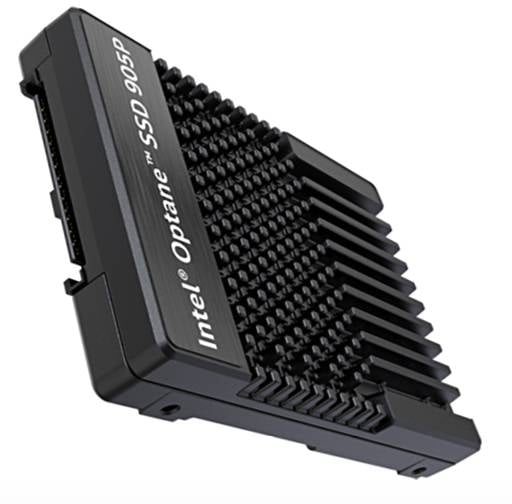 2.5-inch version of Intel's Optane 905P
Samsung's Z-NAND-based and M.2/AIC format SZ985 outguns the 905P, offering 750,000/170,000 random read/write IOPS and 3.2GB/sec sequential read/write performance. But its latency is longer; random reads are 12-20μs and random writes 16μs. We haven't got a price for this drive as it looks like an OEM product.
Sammy has 970 EVO and PRO SSDs in M.2 format. They offer 250GB to 2TB capacities and speeds up to 500,000/500,000 random read/write IOPS and 3.5/2.7GB/sec sequential read/write bandwidth, blasting past the 905P sequentially.
No latency is provided but Storage Review tested the 970 PRO at 338μs, far longer than the 905P's 10μs.
The 970 PRO costs around $330 for 512GB and $630 for 1TB – cheaper than Intel's 905P.
Tom's Hardware has test results for the 905P showing it standing out compared to the 970 PRO and other drives with random reads and mixed read/write performance when the queue depth gets up to 4.
If you really need the Optane 905P's extra capacity and speed, and can afford it, then its worth it. Otherwise it's not yet ready for mainstream use because alternatives are cheaper and perform adequately.
The 905P will be included in some Dell systems shipping this week, and a version of the Akitio Node Lite, as a Thunderbolt 3-connected drive for macOS and Windows.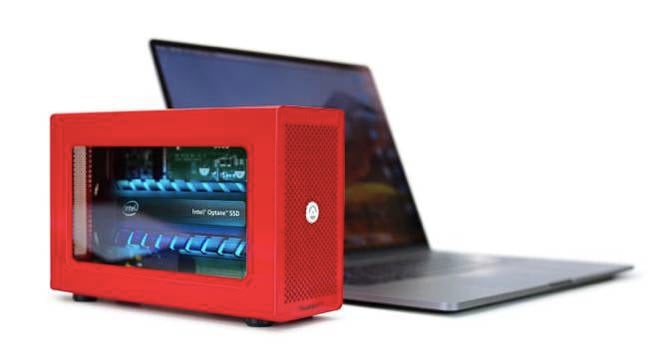 Optane 905P looking very pretty inside Akitio Node Lite casing
However, this portable Akitio system offers slower sequential performance – up to 2.2 GB/sec for both read and write – than if the 905P were fitted directly inside its host. The Thunderbolt link will also add latency. This Akitio product will be available for pre-order in June, with pricing info available then too.
Overall the 905P offers good capacity increases, and the lowest SSD latency, but its sequential performance isn't up with the leaders, nor is its top line random read IOPS figure. ®
Sponsored: Practical tips for Office 365 tenant-to-tenant migration