The science of business continuity: The next storage generation
r/K selection theory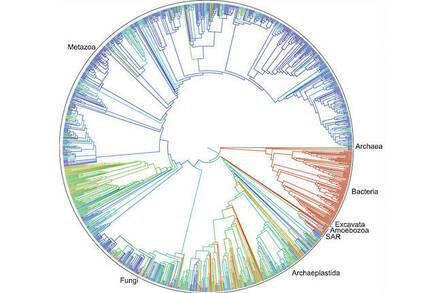 Opinion There is a concept in biology known as r/K selection theory. An r-strategist produces lots of offspring, but is only able to invest a small amount in rearing each offspring.
K-strategists produce far fewer offspring, but as a result are able to invest a great deal more into each. K-selection requires that the parent(s) provide for their offspring for a much longer period of time. This approach to evolution is favoured by highly successful organisms like humans.
I can't help but think that business continuity vendors fall along a similar spectrum. A quick look at four of the bigger names in storage, particularly Dell EMC, HPE, NetApp and Pure, shows the r/K selection theory in action. The question is, though: what does it actually mean for you or me?
Dell EMC
On one end of the r/K spectrum, we have Michael Dell's giant. Dell EMC offers storage arrays under its SC, MD, FS, EqualLogic, Compellent, Unity, VMAX, XtremIO, Isilon, VNXe and VNX-F brands. These are available variously in hybrid, all-flash or both. That's a lot of brands.
Being a storage r-strategist, Dell has storage for any need or occasion but nestled among the storage is Dell's business continuity and disaster recovery story. There's VPLEX, Recoverpoint and VPLEX. None of these hail from Dell, but - rather - EMC that Dell purchased for a record sum.
Dell has services, partnerships and it offers advice and blueprints for you to implement, integrate and follow. From partners we have Axxana running, again EMC, and there are SunGard services built on various EMC vaulting, replication, data domain and recovery products.
So not only are you diving deep into somebody tools and management that don't come from Dell, they come from EMC, but you might also be working through a partner just for added complexity.
Exactly how aware your Dell rep is of the multiplicity of storage lines, and how they are compensated to push different lines is an open question. Finding the optimal solution for your needs seems like it might be one of those unsolvable problems, but I'm regularly told that the obsession with optimal efficiency is a distinctly nerd trait, and "normal" people don't fret as much about it.
HPE
While not quite as prolific as Dell in terms of number of brands, HPE still boasts an impressively diverse stable. And, HPE likes to sweat the animals in this stable, working its well-known and new server and storage brands in to something of a business-continuity story. We therefore have Nimble in storage flash arrays, Veeam backup, StoreOnce and Recovery Manager Central in the mix along with Simplivity hyperconvergence and old server favourites Integrity SuperDome X and Integrity.
HPE calls this story "availability and resilience" but there's a challenge for us in knowing what to join together. There is, too, a latent dynamic tension: HPE trying to lull us into a full HPE stack when, perhaps, our needs are a little more defined - business continuity or disaster recovery.
NetApp
Against Dell EMC and HPE we have Netapp, which starts to pull closer towards K-selection. Netapp has ONTAP-based hybrid and all-flash, Solidfire scale out storage units, as well as hyperconverged and cloud offerings.
Pure
Pure is a company I feel is an example of the ultimate storage K-selector. Pure does only one thing: all-flash storage. And the company last year bet everything on being able to do that one thing really, really well with ActiveCluster - a 100 per cent, NVMe all-flash array that caused the possible answers to your storage needs to be: "All flash or even more ridiculously fast all-flash."
To a great extent, Pure with ActiveCluster shed a great deal of complexity and additional costs making it easier for a broader set of organizations to protect their production applications.
Different approaches
K-strategists like Pure fascinate me. Pure believes, for example, that it can compete with hybrid arrays on cost and that its converged infrastructure systems will win over organizations who are either already addicted to or seriously considering the hyper-convergence easy button approach to storage.
Consider for a moment this blog by Pure Storage. Here the argument is made that the best approach to data efficiency is that it be always enabled, with no nerd knobs. This fits perfectly with K-strategy concept. Pure believes in thoroughly automating its offering.
Perhaps the reason this fascinates me so much is that of late I have been studying the history of public cloud computing. Amazon started beating all the infrastructure vendors up because they automated things and then offer them up as a service.
At first, Amazon automated the bare bones basics of IT infrastructure. Over time, Amazon automated more and more applications and more and more infrastructure components. It even automated the process of IT automation itself, and the process continues. Automating everything from logistics to microservices is certainly one way to attract customers.
Pure, on the other hand, automates one thing: storage arrays. I feel at some point it should be subject to the law of diminishing returns, but storage moves so fast, I'm not sure we're there yet.
Of hammers and tools
There are some cheap clichés to throw around here. Pure's focus on all-flash arrays gives rise to at least two of them. One is that when all you have is a hammer, the whole world looks like nails. The second is something about specialist skills and expertise resulting in the best mouse trap.
I could look at Dell EMC as, say, something about the right tool for the job. Just as easily, I could reference the jack of all trades, master of none. There's a cliché for every argument one would care to make.
What's important, is understanding what you need your infrastructure to look like to run your workloads. If you expect your company – or at least your storage needs – to grow, then systems that scale easily and relatively uniformly are going to be top of mind. If your workloads are critical then you probably want to ask about uptime guarantees and Service Level Agreements (SLAs). Nobody likes surprises after they've committed to a system.
Business-continuity Darwinism
So coming back to my original question, what does the number of storage choices that these vendors have mean for you or me?
There are a lot of storage vendors. Some have multiple systems covering the same space. As a result, no matter what sort of workloads you run, there are going to be a lot of possible packages.
Businesses, meanwhile, are serving the needs of a demanding mobile and online customer base, browsing, buying and clicking around the clock. This is an always-on business world and you cannot risk downtime. That means the IT infrastructures underpinning these operations must evolve to an always-on environment.
That's a challenge as compute and storage are served in an increasingly decentralised - way off site. So, how then, do you ensure services keep going should the worse happen with an outage?
Business continuity, naturally. And that's why you can - and should - now make the storage vendors work for their supper when it comes to speccing out and serving your business-continuity needs.
That whole "needs assessment" thing, where you are supposed to determine exactly what you want, and carefully predict your future requirements and growth, and then go forth and buy exactly the systems that do only that. Skip it. That's stupid. You no longer need to do that.
There are now so many storage suppliers out there and they represent such a large range of positions on the r/K spectrum that you can put them in an arena and make them engage in a really worthwhile and genuine fight to prove to you who is the fittest, so you get what you really want.
And when you do pit them against one another, demand from vendors systems that do everything - systems the vendors prove can scale well past anything you need. In short, systems that come with a cherry on top.
You, and me, are today very much in control of the shape of our business continuity. Moreover, we are in control at a critical time - a time of digitalisation and of cloud, when the need for business continuity has become a key tenet of the always-on business.
We have, in effect, gone from r/K spectrum, from numbers of offspring, to Darwinism - survival of the fittest offspring. It was a logical step to take. Now: take advantage of this new reality.