Wanna hoverboard? Learn to build a tractor beam first
Bristol boffin joins The Register to talk acoustic levitation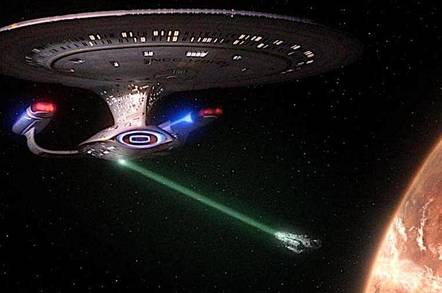 Name a sci-fi classic that doesn't feature some sort of levitation or tractor beam tech...not much, is there. But the stalwart of Star Trek, Star Wars and Back to the Future is moving beyond fiction and into the real world.
The real-world application of such technology, however, has been limited by the size of the object you can you can control. Until now that is, and you can learn all at our next Register Lecture.
Engineers at the University of Bristol recently demonstrated it's possible to trap objects larger than the wavelength of a sound wave using an acoustic tractor beam.
They employed a rotating sound field using 40kHz ultrasonic waves – a pitch usually employed by bats - to suspend a 2cm polystyrene ball.
Join Dr Asier Marzo, one of those behind this breakthrough, on May 23 as he explains to Reg readers the working principles of acoustic levitation and its applications and challenges. There will be live demonstrations and the audience will learn how to build their own levitators at home.
Dr Marzo is a research associate at the University of Bristol and a member of the department of mechanical engineering, ultrasonic and non-destructive testing. He has spoken and written widely on the topic of acoustic levitation and physics of trapping and controlling particles.
The venue is the Rugby Tavern, 19 Great James St, London WC1N 3ES, London, on May 23. The doors will be open from 6.30pm, with the lecture starting 7pm. After about 45 minutes, we'll take a break for some nibbles, before diving into a no-holds barred Q/A. Even without the live demos, this promises to be a fascinating evening, and we hope you can join us.
You can see full details, and buy tickets right here. ®