Windows 10 April 2018 Update lands today... ish
Peer-to-peer patch distribution over the LAN, exile for email, S-mode and lots more fun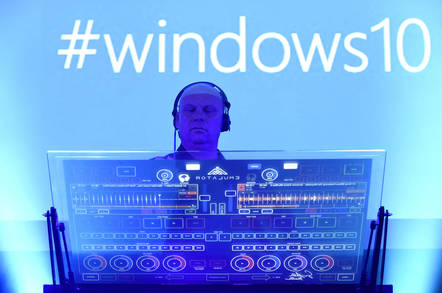 Unless something goes very badly wrong, the April 2018 Update to Windows 10 lands today, April 30, 2018*, complete with a new way to handle updates called delivery optimization.
The idea behind delivery optimization is to let you download updates to one PC, once only, then have other PCs on your network grab those updates over your LAN. Microsoft claims: "This significantly reduces bandwidth (by as much as 90 percent) and that results in a much better experience for everyone on the network."
There's a swag of other sysadmin-friendly stuff too, like the AutoPilot enrollment status page that lets you check that a new device has all the correct policies in place. Windows 10 S mode has arrived, as promised, but Microsoft has mentioned it in the context of kiosks and remote workers rather than the mass mainstream adoption it has forecast. Go figure.
Microsoft Lean's in: Slimmed-down Windows 10 OS option spotted
READ MORE
Microsoft's trying to excite end-users with a new feature called "Focus Assist" designed to help you "get things done without distractions, like social media or other notifications." When you select Focus Assist, the stuff you don't want to see disappears. At the end of the session "you receive a summary of what came through, whether notifications, emails or updates, while you were heads down." It's also possible to set exceptions.
Microsoft's used all sorts of grand language to describe this tool's productivity-enhancing powers and this release of Windows' focus on saving you time. So much that The Register expects saturation coverage in future Microsoft spiels about Windows 10.
A new feature called "Timeline" won't be far behind, as it sorts your activities on an – erm – timeline and makes them searchable. The idea here is that if you know you started drafting an awesome news tip for The Register on Tuesday morning, it'll be on the Timeline instead of you having to go into your email client and look in the drafts folder. Or use desktop search.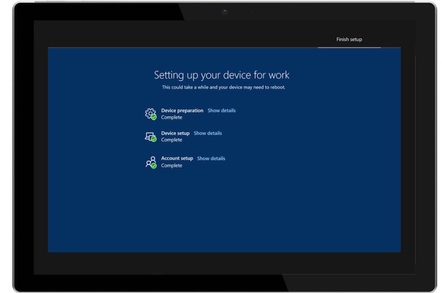 The Windows AutoPilot enrollment status page
Punters also get a new keypress to learn as Win+H now turns on Windows Dictation. So let's not assume that shouting at a PC equates with anger any more, shall we? Especially now that Cortana's learned to interface with home automation kit from Nest, Honeywell and ecobee, among others.
There's plenty more too. So brace for big downloads and some "awwww …. I went to lunch and now my PC is updating and I can't do any work" action today. And let us know how the update behaves, would you? Windows 10 is pretty stable these days, but we're sure there'll be a mess or two to uncover, too. ®
* At the time of writing it was a few minutes to midnight on Sunday, April 29 in Microsoft's Seattle HQ, but close to 7am in London on April 30, and we could detect no evidence downloads of this April update had started. Keep clicking, Windows-lovers! This April update is bound to come along by, er, wait, the second week of May.