Worried we'll make ourselves extinct? Let's be scientific about it
Register Lecture to calculate Existential Risk of AI, bio-tech and more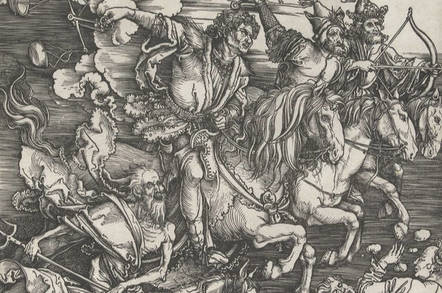 If you've got a nagging feeling that the emergence of autonomous weapons, bio-tech, all knowing computers, untracked asteroids, and the breakdown of political norms is all a bit of worry, congratulations. You're aware of some of the key existential risks facing us all.
But worrying might not be enough. To take action, we need to be able to quantify that risk if we want to avoid it, or at least manage it.
Luckily, we have Dr Adrian Currie of Cambridge's Centre for the Study of Existential Risk is joining us for a Register Lecture on April 25 to discuss how we can develop a science of existential risk.
As Adrian puts it, existential risks are threats to the very existence of the human species. Some like meteor strikes, massive volcanic eruptions and climate change, leave traces for us to study. Others, such as those technological developments that enabled our species to have unprecedented effects on a global level, are trickier.
Either way, if we want to reap the benefits of AI, automation, synthetic biology and advanced gene-editing techniques, and so on, without, well, imperilling our very existence we need to find a way of understanding, communicating and minimizing those risks.
Adrian believes that a science of existential risk must be speculative and creative: "Which means we need to rethink what science looks like, and perhaps the role of scientists in society."
This journey into the future begins at the Yorkshire Grey on Theobalds Road, London, on April 25. Doors will be open from 6.30pm, with the lecture proper starting at 7pm. As ever, refreshments of the liquid and solid variety, will be available.
We'll break for a drink and a bite following Adrian's presentation, after which the floor will be open to questions. It promises to be a fascinating evening, and we look forward to seeing you there.
You can get full details and buy tickets here. ®
Sponsored: Becoming a Pragmatic Security Leader