UK 'wife'-carrying champion named
Couple will represent Blighty at international contest in Finland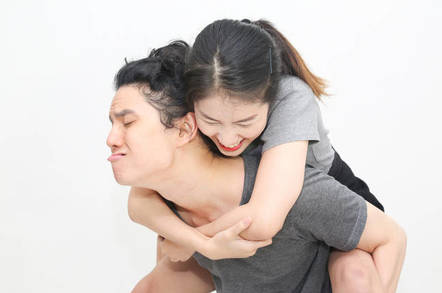 Chris Hepworth has been named winner of the UK's 11th annual "wife"-carrying contest – an honour that not only bestows glory but also a £150 barrel of local ale.
Beating 40 other couples, Hepworth carried Tanisha Prince to victory over a 1250ft (380m) obstacle course in Surrey. The course had hay hurdles for obstacles, a 15-metre climb and a "soak zone" where spectators throw water.
Males or females carry a "wife" (who must be at least 18 and can be male or female, and does not actually need to be the carrier's wife). All those carried must wear a helmet.
The info to competitors reads: "You do not have to be married (to each other, anyway) but it certainly helps if you are at least friends."
All "wives" must weigh at least 50kg. Anyone underweight will be obliged to wear a rucksack filled with tins of baked beans or similar to bring them to the required weight.
But interested parties should proceed with caution. The organiser's blurb said: "Wife carrying can be a dangerous activity, which can lead to any one or more of the following injuries: slipped disk, broken legs and arms, spinal damage, facial injury, skull fracture, hernias, and other sundry injuries and illnesses, and potentially including death. But please don't let this put you off!"
(And that's just after the race is over...)
One survivor competitor, Oliver Elliott, slipped at the halfway point, putting an arm out to break his fall. He said: "I thought I just had a dead arm." The pair went on to complete the course, and then realised a trip to the local A&E department in Epsom Hospital was required to treat what was in fact a dislocated shoulder.
Candidates can carry their "wives" in a variety of ways: the old fashioned piggy-back, shoulder-ride, fireman-Sam-style, or "Estonian" carry- with the carried person's face pointing toward the carrier's bottom.
The organisers reckon the activity of wife-carrying began in June 793 AD, introduced by the Vikings.
One couple even decided to enter the race for their one-year wedding anniversary.
Hepworth and Prince will take part in the World Wife Carrying Championships in Finland in July, and will receive £250 in expenses toward the trip. ®