Ariane 5 primed for second launch of year after trajectory cockup
Satellite payloads ended up in wrong orbit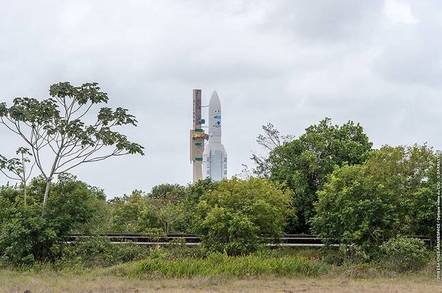 French fingers will be crossed this evening as Arianespace attempts to loft the Superbird-8 and the less imaginatively named DSN-1 dual-use satellite atop the second Ariane 5 launch of 2018 from French Guiana.
The previous launch, on 25 January, did not go entirely to plan with telemetry lost from the heavy-lift rocket nine minutes and 26 seconds into the flight due to a deviation in trajectory, leaving the payload of two satellites in the wrong orbit.
An investigation, chaired by European Space Agency (ESA) Inspector General, Toni Tolker-Nielsen, found that an incorrect value had been entered into both of the rockets' inertial guidance systems resulting in a 20-degree shift to the south in the launcher's trajectory.
Oopsie. Still, at least nobody fitted anything important and guidance-related upside down, as was the case in 2013's unfortunate Russian Proton M launch.
The satellites themselves are currently burning through their own fuel in order to reach their intended orbits, shortening their operational lives.
The launcher is not the only part of the mission to have had difficulties. The Japanese dual-use DSN-1/Superbird-8 satellite was originally slated for launch in 2016 but suffered serious damage during shipment to the French Guiana spaceport. A tarpaulin sheet over the satellite container blocked some crucial valves, leading to the communications antennae being damaged as air pressure increased.
Now repaired, the satellite will provide x-band communications for the Japanese Ministry of Defence and Ku and Ka communication services for the Japanese market.
The other payload on tonight's launch is the four-ton HYLAS-4 satellite, which will provide Ka-band communications to ISPs and mobile network operators across Africa and Europe.
Introduced in 1996, the Ariane 5 vehicle has proven to be a relatively reliable workhorse, clocking up 92 successful launches out of 97 attempts.
However, its days are numbered as the Ariane 6 is scheduled to debut in 2020 and costs less to launch but sadly without SpaceX-style reusability. ®
Sponsored: Webcast: Build the next generation of your business in the public cloud