Nice little Nesta egg: Former lottery quango took cash from Google
Founded pro-Big Tech think tank Readie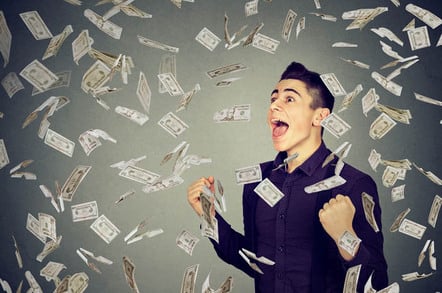 Former UK lottery quango Nesta pocketed cash from Google to set up a Big Tech-friendly think tank.
The details of Google's influence in European academic life are detailed in a report by the Campaign for Accountability (CfA), an initiative part-funded by Google's competitors.
Google turned out to be the only corporate sponsor of think tank Readie, the Research Alliance for a Digital Europe, hosted at Nesta.
The National Endowment for Science, Technology and the Arts, to give its full name, was set up in 1998 with a £250m endowment from the National Lottery, and was initially run by David Puttnam of Chariots of Fire fame. In 2003, he was succeeded by advertising executive Sir Chris Powell, whose elder brother Jonathan was Tony Blair's chief of staff of 1997 to 2007.
Along with the Design Council, Nesta became a charity in the "cull of the quangos" in 2012 – but was allowed to retain its £250m endowment.
"Readie has published dozens of studies and articles on policy issues important to Google, such as artificial intelligence, digital policymaking, regulation and the future of work," noted the CfA. Readie also hosted events and promoted Google economist Hal Varian.
The CfA report notes:
Google's academic influence programme in Europe has gone beyond funding existing academic institutions, as it does in the US, to helping create entirely new university institutes and think-tanks in the United Kingdom and several other countries including Germany and France. Executives from Google's lobbying operation have helped conceive research groups and covered most, sometimes all, of their budgets for years after launch. Google policy executives have acted as liaisons to steer their research priorities and public events with policymakers.
Readers may recall how Nesta handed out grants to a Brazilian clown to "evolve her clowning experience", and handed over £1m to "dream fellowships". But when it came to developing engineering ideas, it flunked. Nesta bodged Britain's chance to pioneer multitouch technology, which subsequently led to an inquiry by PricewaterhouseCoopers. External bodies such as the Ombudsman appeared wary of criticising an organisation packed with New Labour political royalty. Nesta's current CEO is Geoff Mulgan, former Director of Policy at Tony Blair's Number 10.
More recently, the charity funnelled Lily Cole a taxpayer-funded grant from the Cabinet Office for her site Impossible.com, as part of an "Innovation in Giving" initiative. Cole later undertook a promotional tour of the US with an ATM machine that "printed wishes".
Other agenda-skewing initiatives are detailed in the research, although it is far from comprehensive. One factor is that many European academics are sympathetic to Big Tech. The internet was once the David to the incumbents' Goliath. But when the wind changed, they were stuck with that look.
As Humbert Wolfe wrote, in another context:
You cannot hope to bribe or twist
(thank God!) the British journalist.
But, seeing what the man will do 
unbribed, there's no occasion to.

You don't really need to pay academics to go to bat for Google. Many would do it anyway for free.
Download the report here (PDF). ®
Sponsored: Practical tips for Office 365 tenant-to-tenant migration