Chemical burns, explosive fires, they all come free with Amazon power packs
US issues recall for 260,000 batteries after 53 'incidents'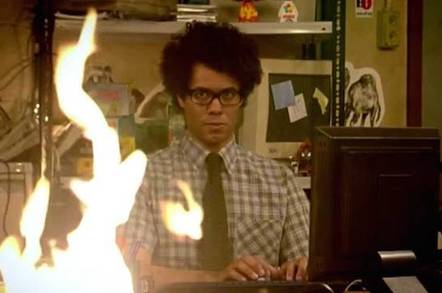 The US Consumer Product Safety Division has issued a recall notice for six types of lithium-ion battery packs sold by AmazonBasics.
The batteries were sold by Bezos' bunch between December 2014 and July 2017 for prices ranging from $9 to $40 and range from larger 16,100 mAh power bricks with integrated USB cables down to tiddly little 3,000 mAh phone rechargers.
"Amazon has received 53 reports of the power banks overheating in the US, including one report of chemical burns due to contact with battery acid and four reports of property damage, including fire and smoke damage," the recall notice reads.
In all around 260,000 of the devices were sold and customers who don't fancy gambling on the possibility of a trip to the emergency room are advised to send them back to Amazon for a full refund. The online souk bought the batteries from the Guoguang Electric Company before badging them and, judging from the extent of the recall, the batteries suffer a fairly basic design flaw.
Typically these kinds of fires either come from a poor initial design or from short circuits within the battery leading to an ignition event. In the latter case we have seen loose flakes of metal inside batteries causing a spark which then ignites the fluids inside the battery.
If you've bought one of these potential incendiary devices then call Amazon on 855-215-5134 or there's an online form to claim the refund and return the dangerous product. ®
Sponsored: What next after Netezza?