Google ad blocks itself with DoubleClick snafu
DoubleClick for Publishers has been exhibiting unexpected behavior for several hours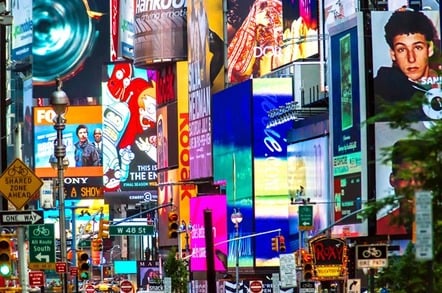 Google's ad service DoubleClick for Publishers has been experiencing problems since at least 1000 Pacific Time (1700 UTC) on Tuesday.
DoubleClick for Publishers allows those running websites to sell ad space (inventory) and manage ad campaigns by logging who clicks on which advertisement.
"We're investigating reports of an issue with DoubleClick for Publishers," Google said on its DoubleClick for Publishers Ads Status Dashboard on Tuesday. "We will provide more information shortly. The affected users are able to access DoubleClick for Publishers, but are seeing error messages, high latency, and/or other unexpected behavior."
That was at 1007 Pacific Time on Tuesday and the problems have persisted since then.
As of 1420 Pacific Time (2120 UTC), Google's status page said the company is continuing to investigate the issue and intends to provide an update by 19:00 pm.
The status page reports that "tracking signals are sometimes returning HTTP errors in Europe," but the technical issues extend beyond Europe.
In Google's DoubleClick Publisher Help Forum, users are reporting website slowdowns linked to the presence of DoubleClick scripts on webpages in various US locations – California, the Midwest, and the East Coast – and in Canada.
The problem is manifesting itself in various ways. Some users report that the click-through destinations of ad banners are not loading; others describe websites that are slow to respond or the inability to add new advertising content.
The most recent status page entry notes that the Delivery > Creatives section of the DoubleClick for Publishers user interface isn't working and will throw a generic error message.
Other Google services, specifically the G Suite product line, are not reporting any problems.
Google did not immediately respond to a request for comment. ®