Got some broken tech? Super Cali's trinket fix-it law brought into focus
Right to Repair Act just in case your phone becomes atrocious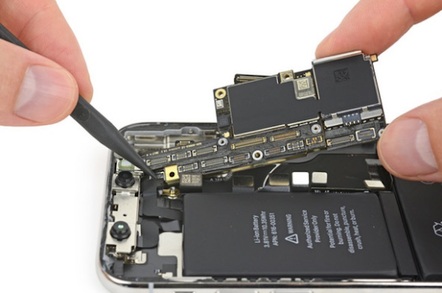 Lawmakers in the US state of California are mulling proposed rules that would force electronics makers to allow people to repair devices themselves.
The draft Right to Repair Act, introduced by Assembly member Susan Talamantes Eggman (D-Stockton), would require manufacturers to publish repair guides and diagnostics and offer repair tools and replacement parts for sale.
The idea, says Eggman, is to allow consumers and independent repair shops the ability to fix phones, computers, and appliances on their own rather than locking them out of the devices and limiting repairs to vendor-owned shops (looking at you, Apple).
"The Right to Repair Act will provide consumers with the freedom to have their electronic products and appliances fixed by a repair shop or service provider of their choice, a practice that was taken for granted a generation ago but is now becoming increasingly rare in a world of planned obsolescence," Eggman said of the legislation.
The bill also doubles as an environmental responsibility pitch, arguing that when consumers are able to get their devices repaired, they are less likely to throw them out and will therefore contribute less e-waste.
"Right to Repair legislation would also help to return competition to the marketplace, giving consumers more options about where and how to repair their products," writes Kay Kay Clapp, director of communications for DIY repair vendor iFixit.
"This not only creates jobs, but it also reduces the environmental impact of e-waste."
Despite (or perhaps because of) being home to consumer electronics and PC giants like Apple, Google, and HP, the Golden State lags well behind a number of other US states in the right to repair movement.
Prior to Eggman's bill, 17 other states had already introduced their own right to repair legislation, though some of these, like a bill proposed in New York, have been defeated by tech industry lobbying.
Many of the leading states are agricultural hotbeds like Nebraska, Iowa, and Oklahoma, where farmers have been fighting against restrictive repair policies on the embedded hardware used in farm equipment. ®